'A New World Order Is Coming' – Putin Blasts "Globalist" Ideology As "Totalitarian"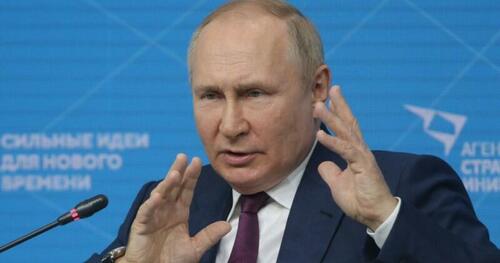 'A New World Order Is Coming' – Putin Blasts "Globalist" Ideology As "Totalitarian"
Authored by Paul Joseph Watson via Summit News,
Russian President Vladimir Putin asserted earlier today that the "globalist" world order is "totalitarian" and is "holding back creative pursuit."
Putin made the comments during a forum in Moscow.
The notorious leader claimed that the west had only achieved its global preeminence due to the historic plunder of other nations and had no moral right to enforce a unipolar model on the planet.
"The model of the total dominance of the so-called 'golden billion' is unjust. Why should this 'golden billion' among the planet's population dominate others, impose its own rules of conduct?" Putin asked.
"Based on the illusion of 'exclusivity,' this model divides people into first and second class status, and is therefore racist and neo-colonial in its essence," he added.
"And the globalist, supposedly liberal ideology which underlies it is increasingly acquiring the features of totalitarianism, holding back creative pursuit, free historical creation," Putin claimed.
A new world order is coming
From the speech of President Putin at the ASI forum: pic.twitter.com/yR8Rq5Hj83
— Spriteer (@spriteer_774400) July 20, 2022
The Russian President went on to stress his view that the globalist world order was built off the exploitation of other countries.
"Of course, this 'golden billion' did not become 'golden' by accident. It has achieved a lot. But it did not only take up its positions thanks to the realization of some ideas, but to a large extent due to the robbery of other peoples – both in Asia and Africa. That's what happened."
He then proclaimed that western elites are terrified that their global order is being dismantled.
Continue reading 'A New World Order Is Coming' - Putin Blasts "Globalist" Ideology As "Totalitarian" at ZeroHedge.