Americans 'Deeply Pessimistic' About US Economy, Inflation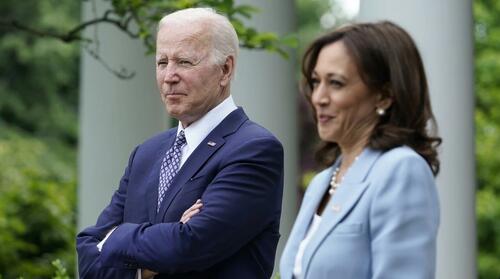 Americans 'Deeply Pessimistic' About US Economy, Inflation
Last week President Biden insisted that "more Americans feel financially comfortable" since he took office.
Yet, according to a new poll, 83% of Americans are pessimistic about the US economy – describing it as "poor or not so good," while 35% say they aren't satisfied with their financial situation – the highest level of dissatisfaction in the 50 years since the Wall Street Journal-NORC (University of Chicago) poll began.
The survey found Americans in a sour mood and registering some of the highest levels of economic dissatisfaction in years. The pessimism extended beyond the current economy to include doubts about the nation's political system, its role as a global leader and its ability to help most people achieve the American dream. –WSJ
The Journal frames sentiment as "deeply pessimistic," and says Americans view the nation as sharply divided over its most important values.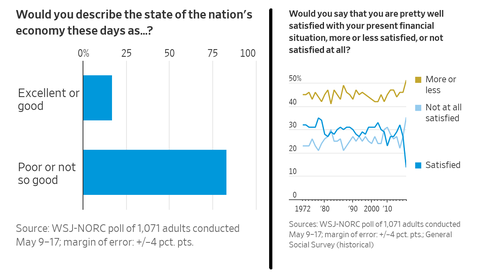 Only 27% of the 1,071 adults polled say they have a good chance of improving their standard of living – a 20% drop from last year, while 46% said they don't.
Meanwhile, 38% said their financial situation had gotten worse in the past few years – marking the second time since the 2007-2009 recession that more than 30% of respondents said their finances were worse off, according to 50 years of data.
Some 60% said they were pessimistic about the ability for most people to achieve the American dream.
"The promise was this was a place where what you were born into did not determine who you could be. But I think we've failed deeply at that," said
Continue reading Americans 'Deeply Pessimistic' About US Economy, Inflation at ZeroHedge.