AOC, Schumer Visit Area With Most Coronavirus Cases Without Masks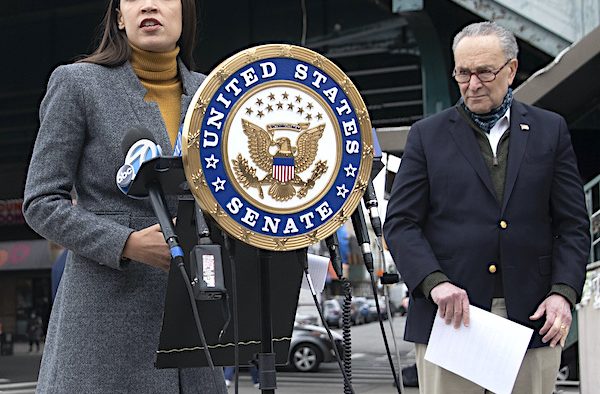 Senate Minority Leader Chuck Schumer, D-N.Y., and Rep. Alexandria Ocasio-Cortez, D-N.Y., are feeling the heat for staging a photo op Tuesday – without wearing masks – in the ZIP code with the highest number of coronavirus cases in the United States.
The two lawmakers held the press conference in front of Elmhurst Hospital, in a section of Queens coincidentally named Corona.
When an online photo showed the two lawmakers wearing no masks, social media went crazy. One Twitter user said: "Where's your mask?"
"We certainly all know what AOC looks like," Republican City Councilman Joe Borelli of Staten Island, told the New York Post. "There's no need to risk everyone else's safety by dragging folks on your staff and the press out for a photo op."
Schumer and Ocasio-Cortez came to Queens to ask for the Federal Emergency Management Agency to deliver relief funding under the Disaster Funeral Assistance program. FEMA set up the program following Hurricane Sandy in 2012.
The average funeral cost in New York is estimated at $11,000.
"Families across New York, and right here in Queens, are already paying the ultimate price with the tragic loss of their loved ones to the coronavirus," said Schumer and Ocasio-Cortez in a joint statement.
"That is why FEMA must do the right thing during this crisis, exactly what they did after Hurricane Sandy, and deliver special funds to New York families faced with mounting funeral and burial costs they simply cannot afford," the lawmakers added in a letter to FEMA.
Continue Reading at Newsmax.