Biden's Press Conference Confirms He's Not Fit to Be President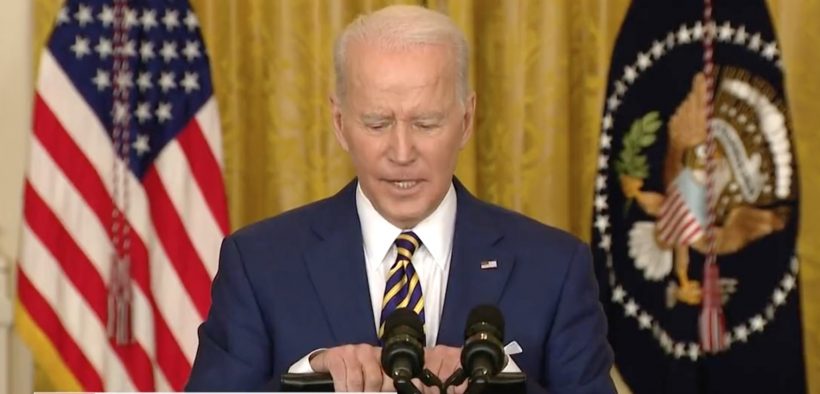 We waited ten months for only his second solo press conference at the White House, but after Joe Biden's horrendous performance it could very well be another ten months before his handlers allow him to hold another one.
For nearly two hours on Wednesday, Biden confirmed what any honest observer already knew, the president of the United States is not well.
Everyone who watched this monstrosity should be terrified, except for our biggest adversaries, namely China, Russia, Iran, and North Korea.
During this 111-minute catastrophe, Biden frequently lost his train of thought, slurred his speech, and was often confused by many of the softball questions he was asked, even though he appeared to have answers to the questions written down in advance from reporters whom he called on from a preselected list.
Biden, who often spoke in a slow cadence with long pauses, frequently gave long-drawn-out ramblings that were incoherent. During some moments, he randomly chuckled at things no sane person would find even remotely funny, and at times he made virtually no sense at all. One wondered if his brain was malfunctioning in real time.
With a straight face, Biden said of his presidency, he had "probably outperformed what anybody thought would happen." This from a man who currently has an approval rating of 40.5 percent in the latest RealClearPolitics average.
He referred to a potential Russian invasion of Ukraine as a "minor incursion," and he sowed doubt on the legitimacy of the midterm elections if his voting bills fail to pass, both of which resulted in his chief White House propagandist Jen Psaki having to do a cleanup in aisle 7, as soon as the presser ended.
Biden also refused to offer any remorse for his disastrous Afghanistan withdrawal that resulted in the death of 13 U.S. service members, and a surrender to middle-aged barbarians, saying, "I make no apologies for what I did."
He took no responsibility for the 40-year high level of inflation, including a 7 percent increase in the last year, or the massive surge in gas prices, and he told us not to believe our lying eyes when he was asked about ongoing supply-chain issues and empty grocery shelves across the country.
He snapped at reporters in the rare instances he was asked uncomfortable, but legitimate questions, and he went back to doing his famous hunched over, bizarre, creepy ghost story whisper voice, apparently under the impression that somewhere on another planet, a poor soul might find it endearing.
He often tripped over his own nonsensical word salad responses and tightly clung to his security blanket of a binder, as though he were a 5-year old clutching a teddy bear.
Gone were the days when angry, belligerent, and truculent reporters shouted, sermonized, ranted, raved and interrupted every other sentence from former President Trump.
When Biden was asked by a reporter if school reopenings or closures could become a key issue for Republicans to win back the suburbs at the midterms, he gave this indecipherable answer:
"Oh, I think it could be, but I hope to God that they're — that — look, maybe I'm kidding myself, but as time goes on, the voter who is just trying to figure out, as I said, how to take care of their family, put three squares on the table, stay safe, able to pay their mortgage or their rent, et cetera, has — is becoming much more informed on the motives of some of the political players and some of the — and the political parties. And I think that they are not going to be as susceptible to believing some of the outlandish things that have been said and continue to be said. You know, every — every president, not necessarily in the first 12 months, but every president in the first couple of years — almost every president, excuse me, of the last presidents — at least four of them — have had polling numbers that are 44 percent favorable. So, it's this idea that — but you all — not you all — but now it is, well, Biden is at — one poll showed him at 33 percent. The average is 44 — 44, 45 percent. One polled him at 49 percent…"
Come again?
No reporter even dared to follow up to ask just what language Biden was speaking.
Instead we were left with mostly fawning reporters politely asking questions, before sitting down to let Biden spew gibberish, but not before graciously thanking the commander-in-chief for the great honor of being able to ask a question from his pre-approved list.
There were, however, two moments that stood out.
When Philip Wegmann from RCP attempted to ask Biden if he was following through on his promise to restore civility by comparing those who opposed his fake voting rights bills to George Wallace, Jefferson Davis, and Bull Connor, the decent man angrily bellowed, "No, I didn't say that. Look what I said. Go back and read what I said and tell me if you think I called anyone who voted on the side of the position taken by Bull Connor that they were Bull Connor…. That is an interesting reading of English. You — I assume you got into journalism because you liked to write."
According to Mr. Unity, accurately quoting him is a sign of illiteracy.
Finally, in what may have been the most painful moment for the president, James Rosen of Newsmax cited a Politico/Morning Consult poll, which found that 49 percent of registered voters disagreed with the statement, "Joe Biden is mentally fit."
When Rosen asked Biden why he supposed such a large number of people had "such profound concerns" about his "cognitive fitness," Biden responded by saying, "I have no idea."
That maybe, but everyone else who saw the press conference certainly does.
The president's mental state has been rapidly deteriorating before our very own eyes for a while now. The press conference just confirmed it.
David Keltz is the author of The Campaign of His Life and Media Bias in the Trump Presidency and the Extinction of the Conservative Millennial. His writing has been published in The American Spectator, the Federalist, American Greatness, RealClearPolitics, the American Thinker, and the New York Daily News, among others. Follow him on Twitter @David_Keltz.