Black Lives Matter fundraising handled by group with convicted terrorist on its board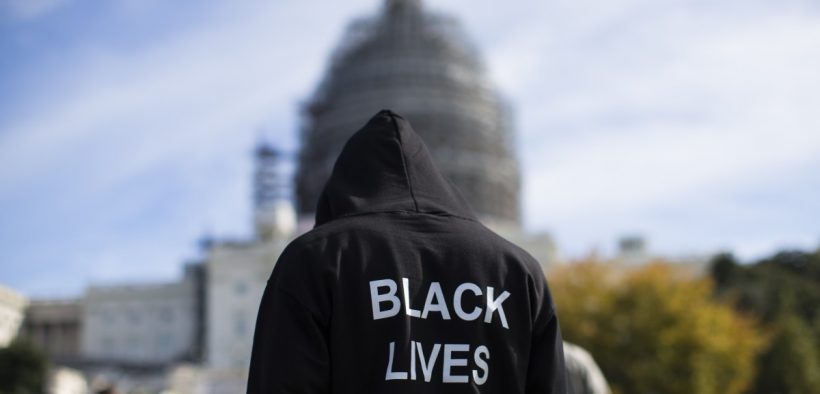 The co-founder of Black Lives Matter names a convicted cop killer as one of her heroes, and the BLM national organization is fiscally sponsored through a leftist group whose board of directors includes a convicted terrorist.
Alicia Garza, one of three co-founders of the Black Lives Matter national organization, has repeatedly talked about how convicted cop killer and wanted domestic terrorist Joanne Chesimard, also known as Assata Shakur, is one of her main inspirations. Susan Rosenberg, a member of the board of directors for the left-wing Thousand Currents group, which handles the intake of donations made to Black Lives Matter, is a convicted terrorist who, among other things, was suspected of helping Shakur escape from prison.
Rosenberg, who was listed as the vice chairwoman of the board of directors for Thousand Currents until the webpage was pulled down this week, as first reported by the Capital Research Center, had been a member of the radical leftist revolutionary militant group known as the May 19th Communist Organization, affiliated with the Weather Underground terrorist group and other radicals. She was convicted on weapons and explosives charges and sentenced to 58 years in prison, serving 16 years before being pardoned by President Bill Clinton in January 2001.
Thousand Currents did not return a request for comment.
Black Lives Matter, which is not a 501(c)(3) charitable group, uses an IRS-approved 501(c)(3) organization — Thousand Currents — as its fiscal sponsor, and so donations made on the Black Lives Matter website through the left-wing ActBlue donation platform go to Thousand Currents, which says it then distributes them to Black Lives Matter. Black Lives Matter has gained a vast amount of national attention, and funding, since the death in Minneapolis police custody of George Floyd on Memorial Day.
Rosenberg was a radical in the 1960s and 1970s who landed on the FBI's Most Wanted List for a number of suspected crimes and was nabbed in 1984 while unloading from her car and into a New Jersey storage unit hundreds of pounds of dynamite along with weapons, including a sub-machine gun. She was believed to have been part of future politically motivated bombing plots. Rosenberg and her M19 associates were also charged with roles in bombings during the 1980s that detonated at the Capitol and the Navy War College, among other targets. They were also tied to a 1981 Brink's armored car robbery that killed a guard and two police officers.
Rosenberg was believed to have also played a role in cop killer Shakur's escape from prison.
Garza wrote an article for the Feminist Wire in 2014 explaining that "when I use Assata's powerful demand in my organizing work, I always begin by sharing where it comes from, sharing about Assata's significance to the Black Liberation Movement, what it's political purpose and message is, and why it's important in our context." Garza has repeatedly tweeted approvingly about Shakur.
Shakur is currently on the FBI's Most Wanted Terrorists List with a $1 million reward. Shakur, a member of the revolutionary extremist group called the Black Liberation Army, is wanted for escaping from prison in New Jersey in 1979 while serving a life sentence for murdering a police officer during a traffic stop. In 1973, Shakur and two accomplices were stopped for a motor vehicle violation on the New Jersey Turnpike by two New Jersey State Police troopers. Shakur was wanted at the time for her role in a number of serious crimes, including bank robbery, so they opened fire on the officers, injuring one trooper and killing Werner Foerster execution-style at point-blank range. She was caught and sentenced but then escaped, making her way to Cuba in 1984.
Rosenberg wrote an autobiography in 2011 titled An American Radical: Political Prisoner in My Own Country, in which she talked about her radical escapades, and since her release, has served as the communications director for the American Jewish World Service and a stint at John Jay School of Criminal Justice. She also joined Thousand Currents.
The website for Black Lives Matter is operated under an umbrella group known as the Black Lives Matter Global Network Foundation, chaired by BLM co-founder Patrisse Cullors, a self-described Marxist. Black Lives Matter uses the ActBlue to raise money, but claims from some conservative activists such as Candace Owens that Black Lives Matter was just a "shell company" for donating money to the Democratic Party do not appear to be true.
Black Lives Matter appears to make up the majority of the donation work that Thousand Currents does, with the 2019 public audit statement for Thousand Currents showing just over $6.4 million in total financial assets, including holding more than $3.3 million in assets for Black Lives Matter as of last June. The audit shows Thousand Currents released nearly $1.8 million in donations to Black Lives Matter during the year ending on June 30, 2019.
The Black Lives Matter Global Network Foundation has pulled in huge amounts of cash since Floyd's death, telling the Associated Press it received more than 1.1 million individual donations as of mid-June, with each donation averaging $33 — meaning the group has brought in more than $33 million in less than a month.
A 2017 report from Black Lives Matter describes its founders — Garza, Cullors, and Opal Tometi — as "three radical Black organizers."
Cullors said that she and Garza are "trained Marxists" during a 2015 interview with the Real News Network, noting: "We are super versed on, sort of, ideological theories, and I think what we really try to do is build a movement that could be utilized by many, many black folk." Cullors told CNN's Jake Tapper in June that "Trump not only needs to not be in office in November, but he should resign now."
The group announced grant funds totaling $12.5 million in recent days.
Black Lives Matter says it was founded in 2013 in response to George Zimmerman being acquitted in the murder trial of Trayvon Martin. President Barack Obama's Justice Department under Attorney General Eric Holder found "insufficient evidence" to pursue federal civil rights charges.
"A year later, we set out together on the Black Lives Matter Freedom Ride to Ferguson, in search of justice for Mike Brown and all of those who have been torn apart by state-sanctioned violence and anti-Black racism," the Black Lives Matter website declares.
The "Hands Up! Don't Shoot!" slogan that features prominently at most Black Lives Matter protests is based on a myth also debunked by the Obama-Holder Justice Department, which concluded the shooting of Brown by Ferguson police officer Darren Wilson was justified.