Brandon Strikes Again! Gas Prices Double on Sleepy Joe's Watch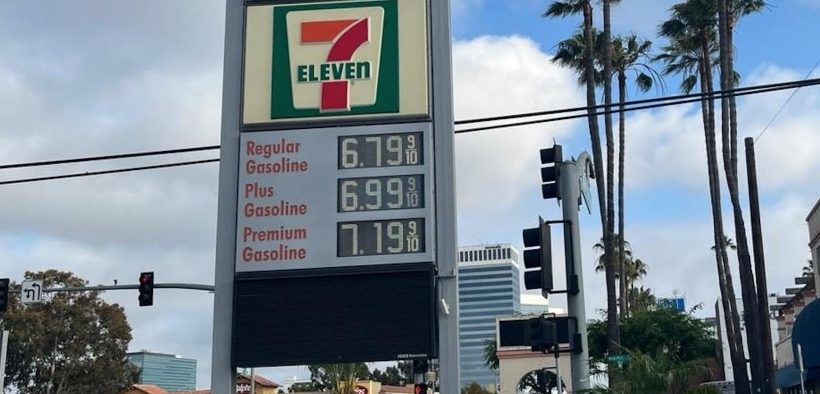 President Joe Biden, this nation's Sadist-in-Chief, has achieved a new milestone in his campaign to inflict pain on the American people.
On Friday, the national-average cost per gallon of regular gasoline had zoomed from $2.37 at Biden's inauguration to $4.76 — up a nickel since Thursday and a whopping 100.8 percent since Grandpa Lunchbucket took power.
So, if Biden has done nothing else, he has steered gas prices to double where they were when he said, "So help me God" on the West Front of the U.S. Capitol.
The damage continued on Saturday, as gasoline climbed yet another five cents overnight to $4.81 — up 102.95 percent since the Biden Era began. And on Sunday, that figure hit $4.84 — up yet another three pennies to a 104.2 percent increase on Biden's tenure.
Biden's cruel and unusual punishment of his own people is no accident. This is all deliberate.
Rising gasoline prices are part of his plan to bully Americans out of traditional cars and into electrical vehicles.
Biden declared a War on Oil during his first hours in office, well before that evening's inaugural balls began to spin. By executive order, he killed the Keystone Pipeline, which already was well into construction. He soon tied fresh red tape around the ankles of the petroleum companies. Biden ended oil-and-gas leases on millions of federal acres onshore and off. He canceled a sale of federally mandated fossil-fuel leases in Alaska and the Gulf of Mexico as recently as May 11, even as U.S. drivers screamed in agony at filling stations from Portland to Palm Beach.
And now, Biden celebrates all of this as an "incredible transition" from fossil fuels to "green" energy. It would be one thing if Americans, through their representatives in Washington, agreed to embark on this "incredible transition," well aware of its expected costs and potential consequences — intentional and otherwise.
Alas, Congress did not pass The Incredible Transition Act of 2022, nor did Biden sign it. He has taken America hostage and is speeding it to a destination that the nation has not agreed to go.
This explains why Team Biden has no answers for addressing one of the most impoverishing factors in contemporary American life. "There will be more demand for gasoline, more demand for oil that will cause upward pressure like it does every year," Energy Secretary Jennifer Granholm told ABC News Saturday, offering Americans neither words of comfort nor reassurance. "It's on top of already high prices. So, this is going to be rough … through the end of the year."
Biden himself was no more helpful as he addressed journalists at the White House on Wednesday: "There's a lot going on right now, but the idea we're gonna be able to, you know, click a switch, bring down the cost of gasoline is not likely in the near term, nor is it with regard to food."
Why would Biden fix something that he does not consider broken? Rising gasoline prices are part of his plan to bully Americans out of traditional cars and into electrical vehicles. Too bad that EVs are 43 percent costlier than traditional automobiles. Plug-in cars also move further out of consumers' reach as high gas prices in particular and inflation in general vacuum their wallets.
Typical of Biden's incoherence, he is pressuring Americans to buy something that most of them do not want while simultaneously curbing their financial capacity to surrender to his will.
Biden is doing all of this unilaterally, by fiat, and with callous disregard for the distress that he is imposing nationwide. But this should surprise no one. Far from being "beholden to the Left," Biden is doing exactly what he wants. The bamboo slivers under drivers' fingernails bear Biden's monogram. He is perpetrating precisely what he promised New Hampshire voters in 2019: "I guarantee you, I guarantee you we are going to end fossil fuel."
Every day, Biden confirms that elections matter. And backing "the nice guy" with mean policies is a reliable way to wreck everything for one's self, one's loved ones, and one's country.
Americans who are sick and tired of this pain at the pump, and Biden's other torture tactics, should follow this simple advice next November and every November thereafter:
Stop voting Democrat.