Comedy Is Dead: Theater Cancels Dave Chappelle Show Because It's a 'Safe Space'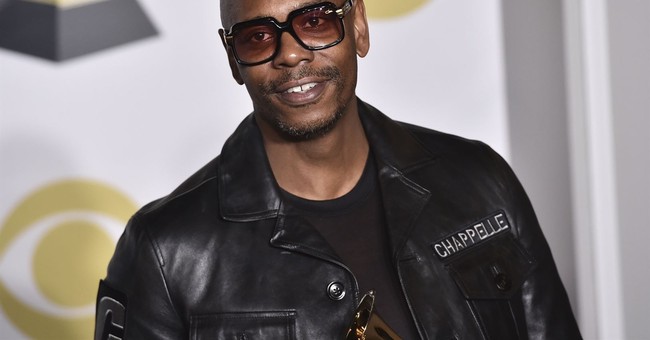 On Wednesday, Dave Chappelle was set to play the First Avenue auditorium. But mere hours before the show, the Minneapolis venue pulled out.
As reported by Fox News, the decision came courtesy of a choral outcry:
In The Closer, Chappelle discussed controversies surrounding gender identity and has continued to defend his right to artistic freedom despite heavy backlash.

First Avenue's Twitter feed was bombarded with comments denouncing the decision to allow the comedian to perform after announcing Chappelle's new shows.
As explained in a statement, the locale had listened to criticism and corrected its course. Make no mistake — management was racked by remorse.
Run-of-the-mill standards won't do:
To staff, artists, and our community, we hear you and we are sorry. We know we must hold ourselves to the highest standards, and we know we let you down. We are not just a black box with people in it, and we understand that First Ave. is not just a room, but meaningful beyond our walls.
Some might say the establishment declared itself anti-comedy; its core value is the protection of sensitive souls:
The First Avenue team and you have worked hard to make our venues (including the conjoined 7th St Entry) the safest spaces in the country, and we will continue with that mission.
If words were violence and safety a shelter from ideas, Woke America might be history's greatest haven soon to happen. Unfortunately, the opposite is true: The less you are challenged, the weaker you become. And when strength is low, injuries are easily incurred.
Comedy stages — like college campuses — were once arenas for subversive philosophical points. These days, more paramount priorities are in play.
By way of a "but," First Avenue illustrated:
We believe in diverse voices and the freedom of artistic expression, but in honoring that, we lost sight of the impact this would have. We know there are some who will not agree with this decision; you are welcome to send feedback.
One online critic claimed Chappelle's appearance would've violated the venue's Code of Conduct. They were absolutely right — if "phobic" stands in for "non-acquiescent."
Per the policy:
The following behavior is not welcome at First Avenue venues: Acting or speaking in a discriminatory manner or using racist, sexist, ableist, transphobic, homophobic, xenophobic, or other biased language including intentional misgendering.
Facing fierce denouncement for gender-identity jokes he's made in recent years, Dave has — in the eyes of many — solidly stood his ground.
Has the comedian not adjusted at all? Compare 2017 to 2021:
"[I] went to a gallery party. … And there [were] a few eccentric types, one of [whom] was a very wealthy man [who] happened to be wearing a dress. I don't know what you call him now — he was a tranny or a drag queen, perhaps. Whatever it was, it was definitely a man. And this man was definitely on drugs … [H]e looked sick. And all his friends were standing around him, concerned, trying to revive him. … I saw all this from a distance. … [I] got curious. … And I went over there. … I said, 'Excuse me, gentlemen…is he okay?' And then they looked at me like I was evil — 'She is fine.' … Here's my thing: I will support anybody's right to be whoever they feel like they are inside. … However, my question is, to what degree do I have to participate in your self-image?"
"[O]ne of the coolest people I ever met was a transgender woman. And this is not a man that I knew that became a woman. This woman was trans when I met her. … I would do 18 shows in the Bay area, sometimes in Oakland in a dirty hood nightclub, and she would be there — a white trans woman, laughing loud and hard at everything I said. … And one night after one of the shows, I met her. And what it was, turns out, it was her dream to be a comedian. And I was her hero. It was very moving. … [W]e became fast fiends."
The performer appears to have progressed, but it's been inadequate according to some.
First Avenue's initial tweet advertising the show — which was ultimately held at the nearby Varsity Theater — saw social media users incensed:
Might all transgender Americans detest Dave's act? If they operate as individuals, then surely not. After all — if two people are thinking exactly alike, then one of them isn't thinking.
Daphne Dorman — the subject of Chappelle's story in The Closer clip above — wasn't in the offended camp. As Dave tells it, Daphne's sense of humor trumped any hint of feeling unsafe:
Continue Reading at Red State.