Coronavirus Safety Measures Could Bankrupt Higher Ed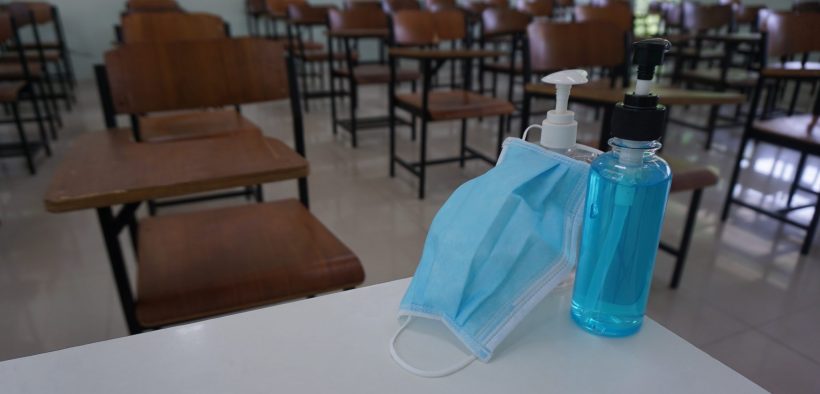 Colleges are confronting economic calamity in the amount of $45 billion in anticipated losses due to the coronavirus. Auxiliary revenue is drying up, fundraising is lower than anticipated, endowments have lost portions of their value, and enrollments are projected to drop 15 percent.
Now, colleges are facing another expense that is sounding their economic doom. In order to reopen this fall, colleges will be forced to shell out millions to make their campuses COVID-safe. The safety costs associated with bringing students back to campus will make up a substantial part of colleges' financial losses.
It is widely believed that many universities will fail because of the higher education bubble. And now those closings will be hurried and compounded by the coronavirus pandemic.
Purdue University, whose president has been a vocal leader in the return to campus, has budgeted $50 million for coronavirus safety precautions for its 41,500 students. Other colleges will be expected to keep up with their standards of protective gear, testing, and rigorous cleaning, or face accusations of negligence.
Purdue has not made public its projected losses due to the coronavirus. The University of Wisconsin–Madison, however, which has 44,000 students, projected $100 million in losses provided the virus's effects largely end in June. As the virus still pervades, Wisconsin will have to add to those losses about another $50 million in costs related to protecting students and staff from the virus, based on the spending by Purdue.
Purchases to keep students safe from the coronavirus are an eclectic mix. Purdue purchased five miles of plexiglass, according to the Wall Street Journal. The University of Central Florida spent $491,000 on 1,200 hand-sanitizer stations and $500,000 on upgraded ventilation systems with ultraviolet light. Central Florida is also spending $3 million to ramp up disinfection of elevator buttons, door handles, bathrooms, and common spaces.
Universities are entering multi-million dollar contracts to test their students for the coronavirus. Chapman University in Orange, California, has a $1.65 million contract with LabCorp for testing its 10,000 students for coronavirus. Before I return to the University of Notre Dame for the fall semester, I will also be required to take LabCorp's nasal swab coronavirus test on the university's dime. The test usually retails for $119.
Colleges are also preparing COVID safety kits for students and staff, which include thermometers, wipes, hand sanitizer, and masks. Purdue University announced its kit will cost $62.50 per student. Some universities, like Notre Dame, are contracting with technology companies for software that allows students to upload their recorded temperature every morning.
The safety costs make the decision of whether to reopen a campus a double-edged sword. If colleges do reopen, they will have to pay for wall-to-wall plexiglass barriers, multitudes of sanitizer stations, and revamped air vents. If colleges do not reopen, they will face even worse losses in enrollment.
These new debts from safety measures are a problem because higher education is living in a bubble. Exponential spending and its accompanying hike in tuition have been the story of higher education for decades. But eventually — perhaps now — there comes a breaking point where the spending doesn't pay off and even government loans can't make students pay the sky-high tuition.
Spending at universities has rapidly outpaced the rate of inflation. In seven years, from 2009 to 2016, higher education spending ballooned from $446.5 billion to $583.6 billion as colleges spent more money on state-of-the-art student centers, chief diversity officers, lazy rivers, and niche majors like casino management. That's a growth rate of around 4 percent each year, outstripping the rate of inflation of about 1.7 percent per year on average over that time. There is such uncontrollable growth because administrators are only incentivized to reach the highest place in the college rankings, and not to make a profit.
The spending has already resulted in a crisis in which Americans owe $1.56 trillion in student loan debt, which is more than both credit card debt and auto loan payouts. Nearly 40 percent of those with student loans are expected to default on those loan payments by 2023, according to research by the Brookings Institution.
It is widely believed that many universities will fail because of the higher education bubble. And now those closings will be hurried and compounded by the coronavirus pandemic.
Michael Horn, an education expert at Harvard University, told CBS News last year, "I think 25% of schools will fail in the next two decades."
"Fundamentally, these schools' business models are just breaking at the seams," said Horn.
Robert Zemsky, a professor of higher education at the University of Pennsylvania, said in February that 10 percent of colleges faced "severe market risk." After the rise of COVID-19 in the United States, he updated the assessment to include 20 percent of all colleges.
With the coronavirus, colleges are being forced to drastically undo the conventional wisdom of 4 percent annual spending growth. Excess jobs have been cut, travel and consultant costs eliminated, and programs and departments have been forced to scrap portions of their usual budgets. But those cuts may not be enough to offset the plexiglass, hand sanitizer, and cleaning staffs that have taken their places.
Higher education has received $7.6 billion in federal stimulus funding to offset their difficulties with the coronavirus, but that amount is vastly below colleges' projected losses. For instance, the University of Wisconsin system received $45 million in CARES Act funding, which could be put towards institutional aid. But it seems this money would not even be enough to fund coronavirus safety measures.
The higher education bubble is real, and COVID-19 has brought it closer to bursting.