Global Coal-Fired Electricity Generation Surges To Record High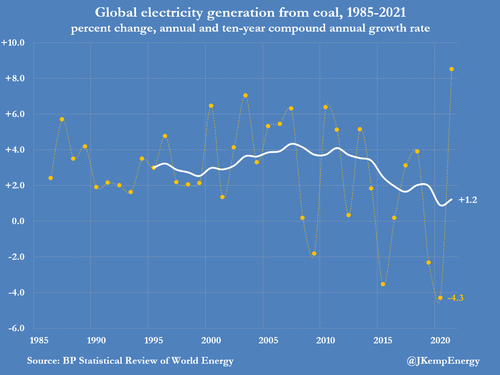 Global Coal-Fired Electricity Generation Surges To Record High
By John Kemp, senior market analyst
Global coal-fired electricity generators are producing more power than ever before in response to booming electricity demand after the pandemic and the surging price of gas following Russia's invasion of Ukraine.
The world's coal-fired generators produced a record 10,244 terawatt-hours (TWh) in 2021 surpassing the previous record of 10,098 TWh set in 2018 ("Statistical review of world energy", BP, July 2022).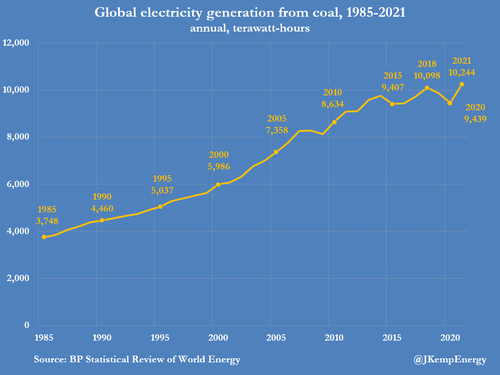 Coal-fuelled generation is on course to set an even higher record in 2022 as generators in Europe and Asia minimise the use of expensive gas following Russia's invasion and U.S. and EU sanctions imposed in response.
By contrast, mine output was still fractionally below the record set between 2012 and 2014 because older and less efficient coal generators have been replaced by newer and more efficient ones needing less fuel per kilowatt.
Global coal mine production was 8,173 million tonnes in 2021 compared with 8,180-8,256 million per year between 2012 and 2014.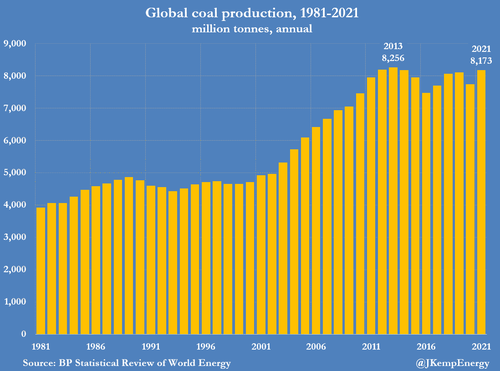 But mine production is also likely to set a new record this year as the surging demand for coal-fuelled generation overtakes efficiency improvements.
Coal Resilience
Coal's resurgence has confounded U.S. and EU policymakers who expected it to diminish as part of their plan for net zero emissions.
Between 2011 and 2021, generation from coal grew more slowly (1.2% per year)…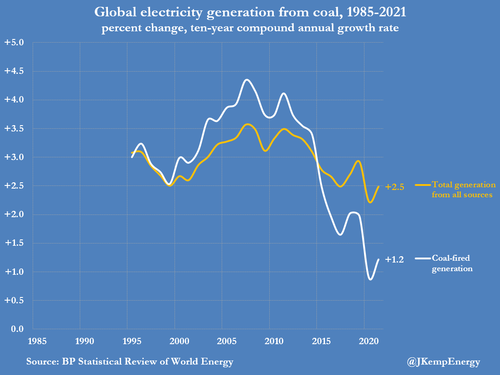 … than hydro (2.0%), gas (2.8%), wind (15.5%) and solar (31.7%).
<a data-image-external-href=""
Continue reading Global Coal-Fired Electricity Generation Surges To Record High at ZeroHedge.