Gold/Silver Ratio Highest Since 1990s Recession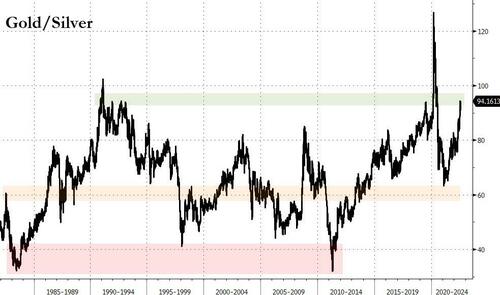 Gold/Silver Ratio Highest Since 1990s Recession
The United States entered a recession in 1990, which lasted 8 months through March 1991.
The end of that recession marked the peak of the gold/silver ratio and as we await Thursday's Q2 GDP print to confirm a technical recession, the gold/silver ratio is back up at those levels – ex-COVID's gold spike, this is 'cheapest' that Silver has been relative to Gold since February 1991…
In simple terms, as SchiffGold.com recently noted,  historically, silver is extremely underpriced compared to gold. At some point, you should expect that gap to close.
In the summer of 2019, the sliver-gold ratio climbed to nearly 93:1 and at the onset of the pandemic, it rocketed to over 100:1. But as the Fed slashed rates and launched its massive quantitative easing program, gold rallied and took silver with it. Silver typically outperforms gold during a gold bull run. This was the case during the pandemic. As gold pushed above $2,000 an ounce, a 39% gain, silver rallied to nearly $30 an ounce, a 147% increase.
Meanwhile, the silver-gold ratio fell from over 100:1 to just over 64:1, close to the high end of the historical norm.
With that spread widening again, we could be setting up for another big rally in silver.
Historically, as Mining.com details below, the ratio between gold and silver played an important role in ensuring coins had their appropriate value, and it remains an important technical metric for metals investors today.
This graphic charts 200 years of the gold-to-silver ratio, plotting the pivotal historical events that have shaped its peaks and valleys.
Continue reading Gold/Silver Ratio Highest Since 1990s Recession at ZeroHedge.