Goldman Sees S&P Tumbling To 3150 When The Recession Hits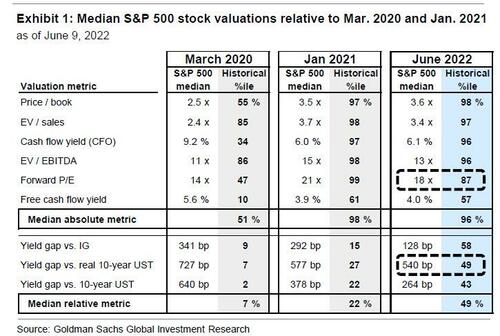 Goldman Sees S&P Tumbling To 3150 When The Recession Hits
After plunging on Friday, S&P futures are starting off the new week even lower with spoos at 3,860 in Sunday evening trade, just 4 points away from a bear market (3856 is 20% off the January all time high), with all other assets – treasuries, commodities and cryptos – all puking as well in the latest "crash correlations to 1" trade as markets freak out that the Fed will crash and burn everything – stocks, bonds, the economy, Biden's approval rating – just to contain inflation, forgetting that once the Fed achieves its mission of a hard landing (because a soft-landing won't push jobs nearly low enough to short-circuit the wage-price spiral), it will be up to the Fed to restart the US economy (since Democrats will be kicked out of Congress in an avalanche this November) and with Biden president, there will be no fiscal stimulus for at least two more years.
With that in mind, Goldman's chief equity strategist – whose economists now expect the Fed to hike 50bps in September, if keep the June hike at 50bps despite some banks such as Barclays now expecting a "surprise", non-consensus 75bps rate hike this week – cautions clients that equity valuations remain far from depressed, to wit:
The median S&P 500 constituent's P/E ratio of 18x ranks in the 87th percentile since 1976. For context, in March 2020 the median stock's P/E was 14x (47th-percentile). Valuations appear more attractive in the context of interest rates, but still do not look "cheap." The 540 bp gap between the median stock's EPS yield and the real 10-year Treasury yield ranks in the 49th percentile, whereas in March 2020 the yield gap was 727 bp (7th percentile).
<a data-image-external-href=""
Continue reading Goldman Sees S&P Tumbling To 3150 When The Recession Hits at ZeroHedge.