Goldman Turns Bearish: The Bottom Is Not In Yet And The Higher This Rally Goes, The Greater The Fall
Goldman Turns Bearish: The Bottom Is Not In Yet And The Higher This Rally Goes, The Greater The Fall
Earlier today we said that JPM's 7th and unstated reason why the rally would continue is that Goldman sellside desk warned that "without clear signs of a positive shift in macro momentum, temporary re-risking could actually increase risks of another leg lower in the market rather than signal the end of the bear market." And since Goldman's sellside desk is – whether on purpose or purely by accident – always wrong, and since Goldman is currently aligned with the Fed itself in hoping talk jawbone risk assets lower, we said that the translation is: "we are going up."
But maybe this time Goldman is right?
Let's take a deeper look at Goldman's contrarian – and for once bearish – take to see if any of its observations are relevant.
In the report from Goldman's Cecilia Mariotti, titled "From rough to trough? Positioning and sentiment stabilising despite mixed macro", she observes that "In recent weeks there has been a partial turn in positioning and sentiment from very bearish levels after a rough first half of the year with CFTC positioning rebounding from historical lows."
Our aggregate measure had turned increasingly bearish since the start of the year and moved below the levels reached around Russia's invasion of Ukraine, before showing some signs of recovery since the start of July. Tentative reversals in our aggregate positioning and sentiment measure have been common YTD, but so far they have generally proved to be fairly limited and only temporary in nature.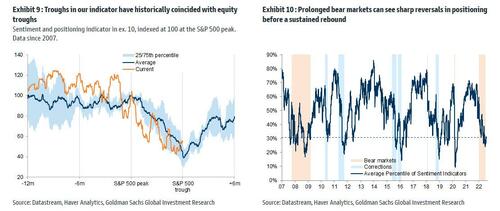 And while Goldman thinks "a further increase in positioning is possible near-term (which could further support the
Continue reading Goldman Turns Bearish: The Bottom Is Not In Yet And The Higher This Rally Goes, The Greater The Fall at ZeroHedge.