Guess Who Snopes Tagged 'Mostly False' When Kamala Linked 1/6 with 9/11 and Pearl Harbor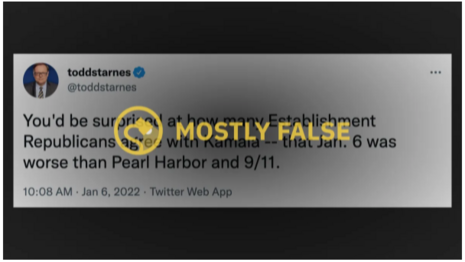 Vice President Kamala Harris began her speech marking the one-year anniversary of the January 6 riot by comparing it to Pearl Harbor and 9/11. "Certain dates echo throughout history, including dates that instantly remind all who have lived through them where they were and what they were doing when our democracy came under assault. Dates that occupy not only a place on our calendars, but a place in our collective memory. December 7th, 1941, September 11th, 2001, and January 6th, 2021."
I was foolish enough to claim the fact-checkers wouldn't pounce on this snippet, which the New York Post noticed:
Your "collective memory" is drowning in exaggeration.

The "independent fact checkers" are taking the day off on this hyperbole. https://t.co/KQHrZXRq6x

— Tim Graham (@TimJGraham) January 6, 2022
Well, Snopes.com certainly noticed….and punished conservative Todd Starnes with a "Mostly False" for saying the vice president claimed 1/6 was "worse than" 9/11 and Pearl Harbor. They didn't fact-check the leftist. They fact-checked the conservative. Snopes hack Dan McGuill put it this way:
Though some observers might object to Harris's even mentioning the Capitol attack in the same breath as Pear [sic] Harbor and 9/11, it is simply inaccurate to claim that she said, or even implied, that Jan. 6 was, by some unspecified measure, "worse than" those two earlier infamous days. She did not, and we are issuing a rating of "Mostly False."
The fact checkers don't care about how cockeyed Kamala's math is on this point.
"December 7, 1941: 2,300 Americans killed. September 11, 2001: 3,000 Americans killed. January 6, 2021: 1 American killed (Ashli Babbitt)," commentator Ben Shapiro tweeted.
Kamala's snippet made the rounds of conservative media, including this Tucker Carlson smackdown.
A Tucker Carlson smackdown of Kamala and Joe making the most egregious historical exaggerations of the riot in their partisan 1/6 addresses. pic.twitter.com/ZB9hP1S6b0

— Tim Graham (@TimJGraham) January 8, 2022
He included Biden's speech, in which he claimed that "Rioters rampaging, waving for the first time inside this Capitol a Confederate flag that symbolized the cause to destroy America, to rip us apart. Even during the Civil War, that never, ever happened. But it happened here in 2021."