If You Elect a Soros DA, Don't Cry to Us When Your Loved One Gets Killed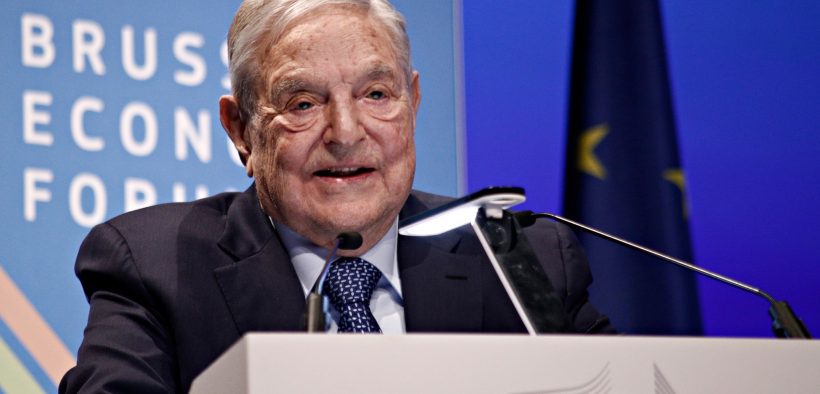 They tell of an illegal poker game in late 1920s New York. (Think: Nathan Detroit and Guys and Dolls.) The cops raid the joint in the cellar and they find three people at the card table — yes, a priest, a pastor, and a rabbi. (The bar was closed.) Cash is spread all over the table. The cops ask the priest: "Well?"
He responds: "I know what this looks like, officers. But this is money our church gathered tonight at Bingo, and I am asking my colleagues for their ideas on how to disburse it to the needy. There is no poker game going on here."
The cops turn to the pastor: "Well?"
He replies: "I brought the cash we collected at services when we passed around the hats on Sunday. Together with Father O'Callaghan, we were talking about maybe starting up a soup kitchen. But there is no poker game going on here."
The cops turn to the rabbi: "We suppose you also are going to deny you are sitting here playing poker?"
The rabbi answers: "With who?"
That's what it feels like every time the news reports another murder tragedy in a city that has turned law enforcement over to a Soros-funded district attorney. With Evil George Soros spending tens of millions to elect radical-extreme DAs across America, cities like Philadelphia, New York, Los Angeles, St. Louis, San Francisco, Chicago, Baltimore, and other metropolitan areas now are experiencing the worst violent crime waves in two decades. And yet, arrests have plummeted. The Soros DAs advocate defunding police, cutting back on hiring, and restricting cops' freedom to police. They order officers not to charge felons with felonies but with misdemeanors, and then the DAs bargain down the misdemeanors to "disorderly conduct." They give strict orders not to add "resisting arrest" charges. They refuse to ask for bail, or they ask for such low bail that bail becomes meaningless, as arrested violent animals get released the same day. They will not prosecute property crimes.
Really, one does not require a degree in criminology to know what is next. If you won't charge me with a crime for stealing goods from trains, I will steal goods from trains unless my parents reared me with a conscience to know right from wrong and with the awareness that G-d always is watching and He eventually will punish. Otherwise, I will shoplift, break store windows overnight, and rob with impunity.
Until Evil George Soros and the era of The Squad and the Biden-Pelosi presidency, no one ever used the term "smash and grab." Now it is as ubiquitous as "bacon and eggs" and more so than "Abbott and Costello" or "Laurel and Hardy." We all know "what to call it" when a Walmarts, Target, or upscale department store is ransacked overnight: Smash and Grab. Or when a Union Pacific rail yard is littered with packages and cartons depleted of their stolen contents: Smash and Grab.
Are murder rates out of control in Larry Krasner's City of Non-Binary Love in Philadelphia? In Kim Foxx's Chicago, where Jussie Smollett is not safe to walk outdoors at 2 a.m. and shop for a cucumber or banana on a blustery night with a wind-chill factor of -40? In Marilyn Mosby's Baltimore? In Chesa Boudin's San Francisco and George Gascón's Los Angeles? Well … Does a fly fly? Does a bear bear? Does a bee be?
This is what happens when people freely elect Soros DAs to set standards of municipal criminal enforcement. Regardless of the Evil George Soros and the tens of millions spent on those DA campaigns, no one puts a gun to voters' heads as they vote. Rather, the guns come out later — after those DAs get elected.
That's when the murders come. Some 10,000 Black Americans were murdered in 2020. Since Black Lives Matter does not care, and since the woke professors and universities who wear Black Lives Matter on their sleeves don't care, and since the Democrats and the Evil George Soroses don't care, and since Caryn Johnson (Whoopi Goldberg) does not seem to care — I guess it falls on me to care. Ten thousand dead Black Americans in a year, lives cut short and murdered in Soros D.A. cities, often killed by bullets randomly flying through their bedroom windows, often fired by other African Americans.
Then there are also others, like Kate Steinle, the young lady who was shot at San Francisco's Pier 14 by an Illegal who was later let off by a Frisco jury. There was also the UCLA student who was working at a Westwood store near the university who got murdered in broad daylight by a crazed homeless man who walked into the shop and stabbed her repeatedly in her chest. We wake up to the news story the next morning or hear about it over coffee and a scone:
"Did you hear about that girl, the one from UCLA, who got stabbed to death yesterday across the street?"
"Here? It's so safe here. This is Westwood."
"Yeah. The guy who stabbed her was some homeless guy. They say he had a crazy look in his eyes."
"Ya think?"
"Yeah. He just walked in, pulled out a knife, and kept thrusting the knife into her chest again and again until, I guess, the knife broke. Maybe a bone broke it. Dunno."
"Jeez."
(Coffee shop patron turns to waitress or barista: "Honey, can I get a bit more caramel in my macchiato?" She glares at him: "First of all, I'm not your 'honey,' pal. Second of all, I'm no longer female. I now am Two-Spirit Pansexual. OK?")
(The conversation at the table resumes.)
"So what were we just talking about?"
"I don't remember. I think it was about taking up a collection to pay reparations to LeBron James."
When I watch or hear the news of such a murder, I find myself increasingly wondering whether the bitterly tearful, weeping family members now mourning their murdered loved one voted for the Soros DA. Or whether the schoolmates at UCLA — all of them so cheerfully woke — voted for Gascón. The neighbors, the professors, the customers who knew her at the store. All of them now weeping. Did any of them vote for Gascón?
I know I didn't.
Or the family of Kate Steinle — her family, her friends, her schoolmates, her neighbors, her UPS delivery person, her pastor or priest, her boss, her coworkers — all now deeply immersed in bitter tears, weeping for her because she is no more. Did any of them vote for a Gascón sort back then, or for a Boudin sort more recently, after Gascón moved down to Los Angeles?
Like the fictional clergy at that 1920s New York poker game, suddenly no one voted for the Soros DA whose policies murdered that young lady or that 1-year-old Chicagoan who was hit by a bullet while in a car with his mom or that aspiring young scientist killed in his bed by a stray bullet. Did any of the people now in mourning vote for the Evil George Soros DA?
I know I didn't. I know that not a single person I know did. It seems on the day after another such murder that no one voted for the Evil George Soros DA. Those district attorneys just somehow get elected with zero votes alongside their progressive Democrat mayor.
Fine. No one playing poker here. Because if you freely have voted for an Evil George Soros-sponsored district attorney, don't come crying later to the rest of us when your loved one gets murdered. Rather, your palms had a hand in the shedding of that blood. Amid your bitter tears, you actually owe the rest of us an apology. And many of us are disgusted that some are so foolish that, in the name of wokeness, they keep electing the same blue Democrats to run their cities perpetually, the same one-party rule of one hundred years, and then weep for sympathy when their loved ones get murdered among the crime wave their votes have stoked.
Please. May I have some more caramel in my fair-trade macchiato?
Read Dov Fischer every Monday and Thursday in The American Spectator and follow him on Twitter at @DovFischerRabbi