It's Cuomo and de Blasio vs. New York's Jews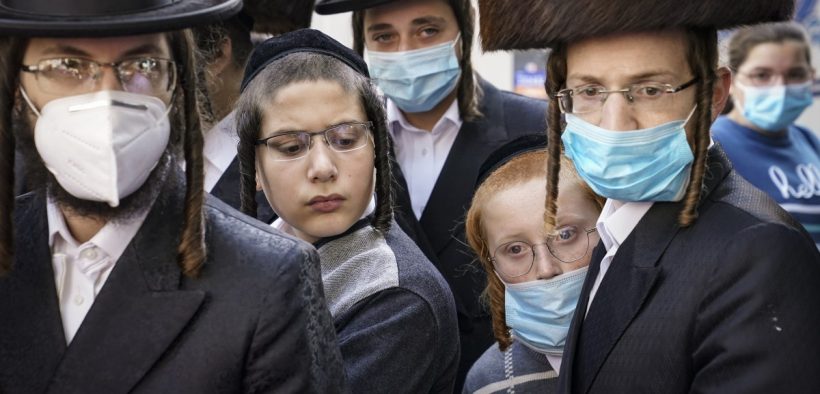 New York Gov. Andrew Cuomo can't stand to be second best at anything, so this week, he's taking on New York City Mayor Bill de Blasio to see who can more effectively alienate Jewish New Yorkers.
It's a heated battle because the incompetent de Blasio has thus far excelled at stigmatizing New York City's Jews, ably ignoring ongoing anti-Semitic hate crimes, inflammatorily tweeting about COVID-19 and Jewish residents, and closing playgrounds in religious Jewish neighborhoods during the pandemic.
In a normal week, de Blasio's announcing major changes that affect the lives of religiously observant Jewish New Yorkers during a major religious holiday, when said Jews were offline, would have been the nadir for New York's Jews. But Cuomo felt compelled to raise his voice. At a press conference on Monday, Cuomo decided to "get tough" with Orthodox Jews.
The governor, who used a 2007 photo of Jews gathered for a funeral as part of his presentation, described limiting the number of people allowed in houses of worship as "a politically uncomfortable situation" before singling out Jews. Cuomo warned, "If you're not willing to live with these rules, then I'm going to close the synagogues." Cuomo referenced his "30-year relationship with the Orthodox [Jewish] community," explaining this is "the last thing" he wants to do and a thing he considers "right on the line of government intrusion on religion."
On Tuesday, Cuomo shared that he had spoken to "the leaders" of the state's heterogeneous Orthodox community. He also announced that he was, indeed, changing the rules for houses of worship. Cuomo acknowledged there have been problems with concerts in the Hamptons, crowds at bars, and off-campus college parties, but he remains remarkably focused on the matter of Jews gathering to pray.
State Sen. Simcha Felder, Assemblyman Simcha Eichenstein, and City Councilmen Kalman Yeger and Chaim Deutsch subsequently released a joint statement, calling themselves "appalled" by the governor's "words and actions," noting that they were excluded from these policy discussions even though they represent "hot spot" neighborhoods.
The four officials condemned Cuomo's "duplicitous bait-and-switch," shifting from promising the community that synagogues could operate at 50% capacity to publicly announcing a limit of 10 people or 25% capacity. The four promised to continue working to improve constituents' compliance with COVID-19 guidelines, but they clearly don't consider the governor a constructive partner in that effort — neither do a growing number of Jewish community members.
In a conversation with me, Americans Against Antisemitism founder Dov Hikind described "getting calls from regular people who are so distressed." He said, "There's such a lack of trust in the mayor and Gov. Cuomo, and that's undermining people's faith in the entire system."
Rabbi Eliezer Brand, a Talmud teacher in Brooklyn, told me, "Shutdowns should happen through data and science. There's no data or even anecdotal evidence that schools led to an uptick. Shuls [synagogues] are just a punitive measure." And Brand certainly isn't the only one to hear things that way.
Rabbi Mitchell Rocklin, president of the Jewish Coalition for Religious Liberty, expressed concern not only about Cuomo's "divisive language," but also his "blaming Orthodox Jews in general for the spread of COVID-19," an allegation that plays on traditional anti-Semitic charges of Jews as disease carriers.
Rocklin noted that Cuomo "went out of his way to focus special attention on 'religious gatherings,' as opposed to 'public gatherings.'" He said, "Why that should get more public attention is not clear, and it's not appropriate from a government official," and continued, "no one wants COVID-19 to spread, and there's a difference between working with a community and appearing to blame an entire community."
In the short run, the good news may be that the law still sides with religious liberty. According to Eric Rassbach, vice president and senior counsel at Becket, "This is about as clear a case as you will see of targeting a particular religious group for special disfavor. That means strict scrutiny applies to whatever action Gov. Cuomo takes." Rassbach continued, "And he is still under an injunction issued by a Syracuse federal district court."
In the longer run, though, New York's Jewish community will need vocal allies. Standing with New York's Orthodox Jewish community is the right thing to do, but it also safeguards everyone's freedom. Because if Cuomo can get away with closing synagogues, your house of worship can be shut down too.
Melissa Braunstein (@slowhoneybee) is a former Department of State speechwriter and an independent writer in Washington, D.C.