Labor Shortage And Surging Shipping Costs Are Biggest Drivers Of US Food Inflation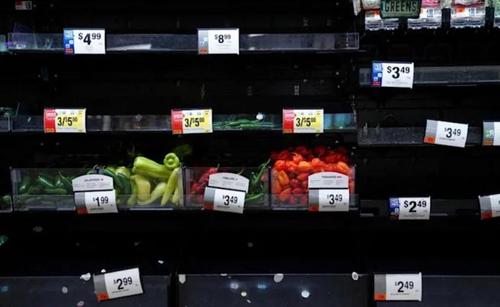 Labor Shortage And Surging Shipping Costs Are Biggest Drivers Of US Food Inflation
Setting aside the ever-present issue of the global supply chain crunch presently gestating in the PROC, where factories and ports are struggling with the most restrictive lockdown measures since the (Fauci-funded) "China virus" first burst forth out of Wuhan, the US is still facing serious shortages of workers and critical goods like foodstuffs and medicine.
The US labor market disappointed once again in December, while November's similarly disappointing number was revised up only slightly. Meanwhile, those who are working are struggling with the fact that inflationary price pressures are hammering real wages. And regardless of what the Fed does next, it appears kinks in the economy created by COVID and the federal government's response to COVID will continue to push food prices higher for the foreseeable future, as Reuters reports.
Citing three critical factors, high demand for groceries, soaring freight costs and "omicron-related" labor shortages, Reuters projects that prices for "food and fresh produce" will continue to climb for the foreseeable future.
Already, growers across the West and Midwest are paying 3x the freight costs from before the pandemic – all to guarantee shipment of perishables like berries and lettuce before they spoil.
Some companies are even holding back on shipping certain goods (like long-lasting onions) to see if shipping costs might ease.
Shay Myers, CEO of Owyhee Produce, which grows onions, watermelons and asparagus along the border of Idaho and Oregon, said he has been holding off shipping onions to retail distributors until freight costs go down.
Myers said transportation disruptions in the last three weeks, caused by a lack of truck drivers and recent highway-blocking storms, have led
Continue reading Labor Shortage And Surging Shipping Costs Are Biggest Drivers Of US Food Inflation at ZeroHedge.