Liberals defend Kaepernick's free speech but not Harbaugh's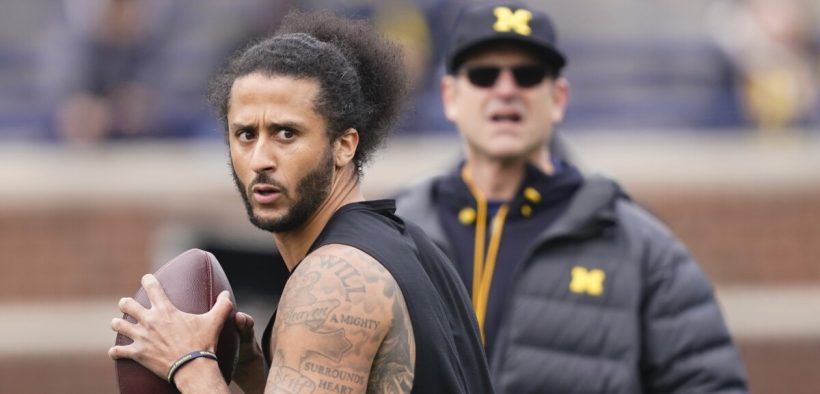 Michigan Wolverines head football coach Jim Harbaugh recently spoke at a pro-life event — and liberals aren't happy about it.
"I believe in having the courage to let the unborn be born," Harbaugh told the audience at a Plymouth Right to Life event. "I love life. I believe in having a loving care and respect for life and death. My faith and my science are what drives these beliefs in me. Quoting from Jeremiah, 'Before I formed you in the womb, I knew you. Before you were born, I set you apart. I appointed you as a prophet to the nations.'"
The same liberals who praise coaches and athletes for speaking out on political issues they agree with were quick to condemn Harbaugh. So while they were fine with, say, former San Francisco 49ers quarterback Colin Kaepernick getting political by kneeling for the national anthem during the 2016 NFL season, they aren't OK with Harbaugh's view. Instead, they want him to shut up.
Jemele Hill, who used to work for ESPN but now writes for the Atlantic, was one of the culprits. "This might be a difficult concept for Jim Harbaugh of any anti-choice person to grasp … but if you don't want an abortion, just don't get one," Hill tweeted. "Not that hard."
Like Hill, Forbes senior contributor Sam Abuelsamid wants Harbaugh to stay quiet on the life issue. "Generally my only interest in @UMich football is avoiding that side of Ann Arbor on game days," he tweeted. "However, Jim Harbaugh needs to have the courage to STFU and we all need to support bodily autonomy for those that have already been born."
The "Hoarse Whisperer," a liberal Twitter account with more than 400,000 followers, argued that Harbaugh should be canceled for sharing his beliefs. "I hope Michigan donors immediately cease supporting Harbaugh," the user wrote.
And Bleacher Report NBA writer Tyler Conway felt the need to bash Harbaugh for his beliefs. "Famously normal, likable and not-at-all insane person Jim Harbaugh with more extremely normal, likable and not-at-all insane thoughts," he wrote.
These are all liberals who supported Kaepernick's right to free speech when he was sharing ideas they agreed with.
If you follow their line of logic, then a public figure who condemns the killing of the unborn deserves scorn and censorship. But when an entitled multimillionaire professional athlete disrespects the troops by kneeling during the national anthem, nobody can criticize him.
Tom Joyce (@TomJoyceSports) is a political reporter for the New Boston Post in Massachusetts.