Megaship Blocking Suez Canal "80% Partially Refloated"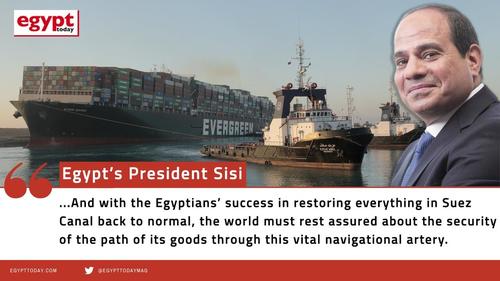 Megaship Blocking Suez Canal "80% Partially Refloated" 
The Ever Given container ship, stuck in the southern part of the Suez Canal, has been partially refloated, according to Egypt Today Magazine. Tugboat efforts will continue Monday around high tide to clear the blockage in one of the world's most important shipping lanes. Ever Given has been paralyzed in the canal for nearly a week as more than 450 ships are queued up, waiting to transit the vital shipping lane while others have rerouted around the Cape of Good Hope. 
A statement by the Suez Canal Authority (SCA) said the container ship has "responded to the pulling and towing maneuvers." We reported Sunday at least 14 tugboats and a dredging vessel have worked around the clock for days to move the Ever Given. SCA gave no timeline when the canal would reopen since the vessel is only partially refloated. 
Egypt Today Magazine, using VesselFinder, shows Ever Given's positioning has changed. The vessel's bow is positioned more into the channel than ever before.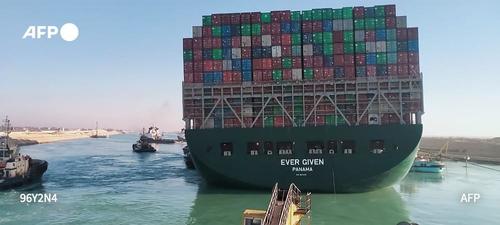 The local news agency tweeted a video of the salvage team blaring their foghorns in jubilation after the vessel was partially refloated. 
#BREAKING | Suez Canal workers, captains are celebrating the moment of freeing Ever GIVRN vessel, chanting "Thank God" & "God is the Greater"#Egypt #Suez #SuezCanal #EVERGIVEN #Evergreen #BreakingNews|#قناة_السويس #السفينة_الجائحة #عاجل pic.twitter.com/MpGnuHd6LD
— Egypt Today Magazine (@EgyptTodayMag) March 29, 2021
VesselFinder shows Ever Given's trajectory has dramatically shifted into the channel.
#BREAKING | Ship-tracking service VesselFinder has changed Ever Given's status to under way on its website. raising hopes the busy waterway will soon be reopened.#Egypt #Suez #SuezCanal #EVERGIVEN #Evergreen #BreakingNews|#قناة_السويس #السفينة_الجائحة #عاجل pic.twitter.com/lz5EuNM5Ty
— Egypt
Continue reading Megaship Blocking Suez Canal "80% Partially Refloated"  at ZeroHedge.