National Security Group Details China's Coronavirus Deceptions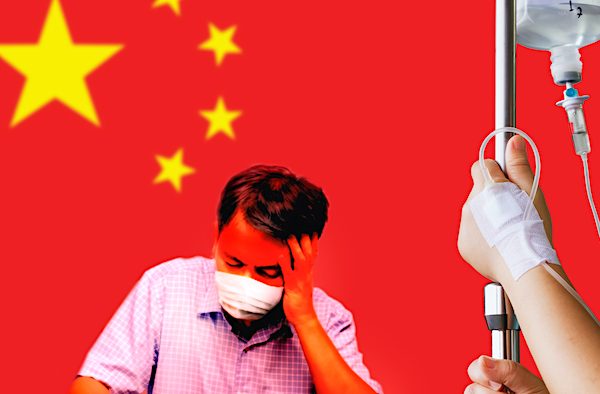 A comprehensive timeline of China's coronavirus deception has been published by the Center for Security Policy's Dr. J. Michael Waller, featuring 70 pages chronicling Beijing's international disinformation and propaganda.
"The timeline chronicles how Beijing has covered up and lied about the virus as it developed, allowing it to spread around the world, and how Chinese leaders blamed the United States and other countries for the pandemic while portraying China as the victim and Chinese President Xi Jinping as the hero," the Center for Security Policy's Fred Fleitz wrote in a release of the report.
The historical review traces the evolving propaganda from Chinese government, according to Waller's missive.
"By following the propaganda lines with regime actions in chronological order, we can trace how the Xi Jinping regime responded to the coronavirus outbreak and weaponized it to attack the United States and divide its leaders," Waller wrote.
"We can then push back against Chinese propaganda, break through the regime's disinformation and censorship inside China and here at home, and devise ways to hold the Communist Party responsible for the pandemic."
Included in the timeline is the collaboration with the Chinese government by the World Health Organization, too, per Fleitz.
The timeline begins at "patient zero" Nov. 17, 2019 and continues up to the minute – with the latest entry a breaking news report of "Australia begins seizing faulty Chinese-made protective gear."
Among some of the more notable entries in the extensive report:
"Stage 1: Repression and Cover-Up"
Dec. 30: Dr Li warns other physicians. He would later die from COVID-19.
Jan. 9: CCP TV calls it "Wuhan virus" and CNN calls it "Wuhan pneumonia."
Jan. 11: "Centers for Disease Control update a travel health notice from Wuhan."
Jan. 15: "Wuhan Virus spreads to U.S."
Jan. 16: "Wuhan officials say health crisis is over, and encourage large public gatherings."
Jan. 17: "U.S. starts implementing airport health entry screening for virus 'exported' from Wuhan."
"Stage 2: From hiding leader to heroic leader"
Jan. 20: "CCP leader Xi Jinping makes the first public comment about the virus."
Jan. 21: "CNN calls it 'Chinese coronavirus.'"
Jan. 23: "World Health Organization holds off declaring public emergency," but "in Xi Jinping's first public dramatic action, authorities implement Wuhan quarantine."
Jan. 30: "Whistleblower Dr Li tests positive for virus."
Jan. 31: "WHO declares 'Public Health Emergency' over virus," and "U.S. imposes first entry restrictions."
January-February: "CCP instructs front companies to buy up world supply of medical supplies" and "U.S. sells virus protective gear to China in January & February."
Not mentioned in the report is through this point, House and Senate Democrats are purusing impeachment of President Donald Trump.
"Stage 3: Repression of facts & reinforcement of Xi"
Feb. 4: "Chinese foreign ministry rips U.S. for 'doing nothing to help contain the outbreak.'"
Feb. 6: "Dr. Li dies of the coronavirus" – more than a month after his early warning and week from testing positive.
Feb. 7: "U.S. announces $100 million China aid package to combat virus."
Feb. 8: Secretary of State Mike "Pompeo warns US governors how China targets them and their states."
Feb. 15: "WHO won't apply China name to COVID-19 but applies Africa name to other outbreak."
Feb. 18: "CNN calls it 'Chinese' and 'Wuhan coronavirus.'"
Feb. 19: "NPR discusses China's spy operations on U.S. medical labs" and "Harvard professor's secret lab in Wuhan."
Feb. 24: "World Health Organization issues instructions not to say 'Wuhan' or 'Chinese Virus.'"
Feb. 26: "China still not sharing data."
"Stage 4: Whipping up nationalism & blaming foreigners"
Feb. 27: "Propaganda line begins that the virus might not have originated in China."
Feb. 28: "Global recognition of CCP propaganda campaign."
Feb. 29: "Massive foreign coronavirus disinformation campaign on Twitter uncovered."
March 2: "CCP instructs Chinese ambassadors abroad to spread the rumor on Twitter that the virus did not originate in China."
March 7: "Chinese diplomat: Virus is not from China."
March 10: "WHO officially declares a world pandemic" and "New York Times tweets that use of the term 'Wuhan virus' is 'racist and xenophobic.'"
"Stage 5: China blames US, and US fights back"
March 11: "Trump announces massive restrictions to fight virus."
March 12: "Foreign Ministry hints that US Army brought the virus to Wuhan."
March 13: "CCP says this is the last day Trump had supportive words for regime's efforts."
March 14: "Trump is racist for criticizing Chinese government, CCP outlet says."
March 16: "Trump tweets about 'Chinese Virus,'" and "certain media outlets take the bait, attack Trump as racist."
March 17: CCP "Regime expels Washington Post, New York Times, & Wall Street Journal."
"Stage 6: Heroic victim vs Racist aggressor"
March 19: "Chinese propaganda blames US for the world's financial losses" and "World Health Organization helped CCP avoid culpability."
"Stage 7: CCP faces unprecedented challenge from U.S."
Marh 20: "CCP attacks now become personal against President Trump."
March 21: "Politico: 'China is winning' the 'propaganda war.'"
March 22:

"Normalcy: Chinese should start traveling again."
"CCP organs urges people to echo Paul Krugman's 'Trump pandemic' in New York Times."
"Chinese ambassador downplays disappearance of citizen journalist Chen Qiushi."
"Italy may have had virus before China, CCP organs say."
"White House says 'Chinese coronavirus.'"

March 23:

"Regime claims that most of China is safe from virus."
"CCP/PLA: Trump's 'passing of the buck to China is political hooliganism.'"
"Trump stops using the term 'Chinese Virus.'"

March 24: "Trump: 'Chinese Virus' terminology not a big deal."
March 25: "CNN's Chris Cuomo attacks Trump, says virus 'could have come from anywhere.'"
March 26:

"G7 as a group rejects saying 'Wuhan Virus' or blaming China in joint statement."
"Spain finds Chinese-made test kits are worthless."
"Chinese lawyers sue U.S. for being responsible for pandemic."

March 27: "Trump and Xi speak by phone."
March 28: "CNN runs mea culpa for saying 'Wuhan virus,' says it changed after WHO guidance."
March 30: China lectures world not to 'politicize' the pandemic" and "Whistleblowing Wuhan doctor has 'disappeared.'"
March 31: "Obama's former national security adviser says 'Wuhan virus' is deliberate 'race-baiting.'"
April 1:

"CCP complains that the world is not praising 'Chinese people' enough."
"U.S. intelligence: Chinese authorities have 'concealed' extent of pandemic."

April 3:

U.S. Amb. Terry Brandstad "makes positive diplomatic statement about working with China."
"CCP outlets use Amb. Branstad's letter to attack Secretary of State Pompeo."
Dr. Waller is an expert on international disinformation and propaganda and will be continuing to provide analysis on the global pandemic, according to Fleitz.
An entry likely to be added soon is New York Gov. Andrew Cuomo praising China on Saturday for sending 1,000 ventilators to New York City, which is now the global epicenter for the outbreak.
Also, the same day, China has held a country-wide day of mourning for their coronavirus victims, which are less than New York state, an area that has 1/700th of the population of China.
Continue Reading at Newsmax.