No Dem Bounce from Roe Repeal: Emerson Poll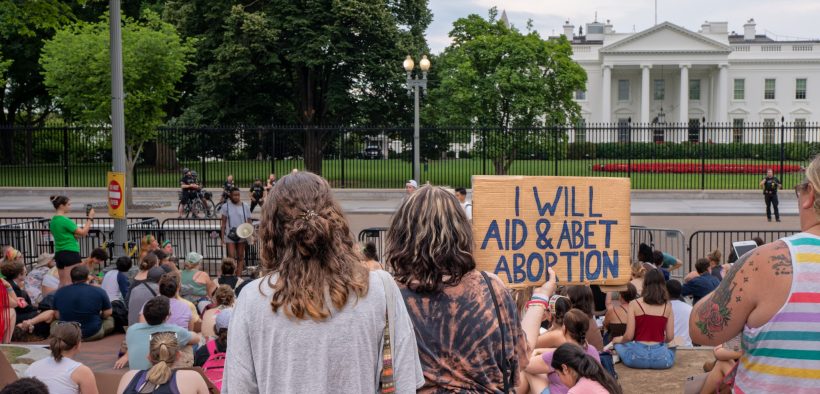 President Joe Biden's approval rating has not changed following the release of Dobbs v. Jackson Women's Haealth Organization, according to a poll from Emerson College. The finding pours cold water on Democrats' hopes that the reversal of Roe v. Wade would inspire a political backlash to their benefit.
According to the Emerson poll, 40 percent of voters approve of the job Biden is doing as president. Over half, 53 percent, disapprove. Emerson's previous survey in May, before Roe was officially overturned, found that 38 percent of voters approved of Biden and 52 percent disapproved, a statistically insignificant difference.
Some commentators had suggested that overturning Roe would help the Democrats in the midterm elections. For example, New York Post columnist Michael Goodwin said that "the abortion ruling might be a political life raft for Dems in the fall midterms. In fact, it could be the best thing to happen to them since Donald Trump."
Democratic leaders seemed to agree, latching onto left-wing anger following the decision. According to a report from Politico, Democrats are "hopeful" they can defeat the GOP by harnessing "women voters' fury over abortion rights."
The prime obstacle to Democrats this November is Biden's approval rating. One of the main predictors of how the incumbent's party will perform in midterm elections is the president's approval rating. Biden's job approval is poor; recent polls have it between 41 percent and 35 percent, significantly worse than where former President Donald Trump was at this point in his presidency. As a general rule, people who like the job the president is doing are likely to vote for his party, while people who dislike it are likely to vote for the opposing party.
The generic congressional ballot, which asks if respondents intend to vote for a Republican or a Democrat, shows the same trend. According to the poll, 46 percent of voters would choose the Republican candidate, while 43 percent would choose the Democratic candidate, an advantage of three points for the Republicans. In May, 45 percent preferred the Republican candidate while 42 preferred the Democratic one.
The only movement outside of the poll's 2.7 percent margin of error was unfavorable to Democrats. According to the poll, Trump holds a five-point lead over Biden in a hypothetical 2024 rematch. In May, Trump held only a two-point lead over Biden.
Trump also maintained an advantage in the 2024 Republican primary, with 55 percent of Republicans backing him. Florida Gov. Ron DeSantis received 20 percent support and former Vice President Mike Pence received 9 percent support. While he does not have a named opponent, Biden fares somewhat better among Democrats; 64 percent want him to be their nominee again in 2024, while 36 percent would prefer somebody else.
According to the Emerson poll, the most important issue is the economy. Fifty-eight percent of voters said it was their top issue, a nine-point increase from May. Voters give Biden even lower marks on handling the economy than they do overall. Biden and the Democrats are in major trouble, and it doesn't seem like the decision in Dobbs will be able to save them.