Noem Back in the Game on Defending Girls' and Women's Sports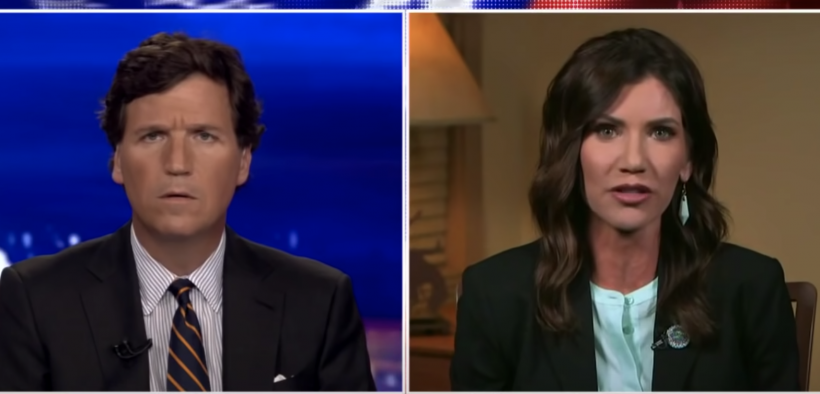 Perhaps the Right was a little hasty with its condemnations of South Dakota Gov. Kristi Noem.
Early in 2021, Noem proposed legislation that would require all athletic contests in the state to be designated as male, female, and both, and that only those born female would be allowed to compete in girls' sports.
The proposal ran into some headwinds — the NCAA was making noises about canceling all events in any state that enacted such a ban, and others raised concerns about the reporting requirements and how it would be determined whether or not athletes had taken anabolic steroids in the previous year.
Noem attempted a "style and form revision" — in South Dakota, governors can make minor, technical revisions to legislation after it has passed, but the new version must be approved by the Legislature. But since Noem had held off on extending the ban on trans athletes to colleges, the Legislature rejected her changes, 67-2.
At that point, Noem vetoed the legislation before her, enacted what she could through executive order, and vowed to return to the issue. For this, she was excoriated as a sellout who lacked the guts to take her place at the top of 2024 or 2028 presidential contenders.
Tucker Carlson pummeled her on his show: "So you're saying the NCAA threatened you and you don't think you can win that fight? They said, 'If you sign this, we won't allow girls in South Dakota to play,' and you don't think you can win in court, even though the public overwhelmingly supports you nationally. And so you're caving to the NCAA? I think that's what you're saying."
Noem responded that people had tried to bully her over the issue for a solid year and that she wasn't going to take it from the NCAA, big business in the state, or fellow conservatives.
"I'm going to solve the problem," she said. "I'm going to make sure that we are building strength in numbers and we are going after the NCAA and make sure that we are keeping only girls playing in girls' sports."
You know Noem is on the right track because this time, the condemnation has come exclusively from the far left.
This week, Noem made good on that pledge. She proposed legislation that would codify her executive orders and increase protection for women and girls. She said in a statement that the "problematic provisions" from last session's legislation — those relating to steroids and reporting requirements — have been removed and made clear this legislation would address K-12 and college sports.
The need for such legislation is obvious — people who have transitioned from male to female still have the physical characteristics of males, which confers significant athletic advantage.
One need only look to the swimmer at Princeton who has gone from third-best on the men's team to smashing school records, posting the best female time in the nation in one event and winning a big race in another event recently by an astonishing 38 seconds.
The swimmer said, "Being trans has not affected my ability to do this sport," but it obviously has affected the ability of female swimmers to compete on a level playing field.
You know Noem is on the right track because this time, the condemnation has come exclusively from the far left.
A writer for CBS News pointed out that although the proposed legislation states that "only female athletes, based on their biological sex, may participate in any team, sport, or athletic event designated as being for females, women, or girls," it makes no mention of "transgender boys or men or those who are non-binary."
Others talked of not having access to sports programs, even though biological boys would still be eligible to play on boys' teams even if the legislation passes.
A lawyer for Lambda Legal, which focuses on gay rights, called the proposal "a terrifying reinforcement of the most damaging messages that there's something wrong with them and they don't belong and they must try to make themselves into somebody that they're not."
The proposed legislation does none of that. It merely codifies executive orders already in place that prohibit biological males from taking advantage of their inherent superiority in physical endeavors to defeat girls and women who have done everything in their power and within the rules to prepare.
And yet, the headline on Yahoo's story about Noem's proposed legislation read, "South Dakota Gov. Kristi Noem Proposes New Anti-Trans Sports Bill." The story does not focus on fairness or the very real victims of allowing biological males to compete as females.
The director of the ACLU in South Dakota said Noem should focus on the "actual threats to women's sports, such as severe underfunding, lack of media coverage, [and] sexist ideologies that suggest that women and girls are weak" and added that "Bills like this that seek to ban trans women and girls from participation in athletics are based on inaccurate stereotypes about biology, athleticism and gender."
Inaccurate stereotypes? Tell that to the women competing against the suddenly dominant swimmer from Princeton.
Noem as RINO? Looks like that notion can be put to rest as well.