Not Enough Fast Coronavirus Tests To Cover Senate When It Returns Monday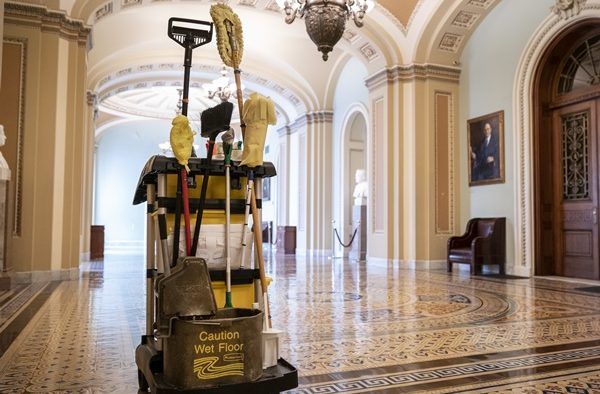 Capitol Hill's attending physician reportedly is warning there aren't enough coronavirus tests to test all 100 senators when the upper chamber comes back into session Monday.
In a conference call with top GOP officials Thursday, Dr. Brian Monahan said there isn't sufficient capacity to quickly test senators for coronavirus, Politico reported.
Monahan said his tests would take as long as seven business days to get results back.
"My test result can take between two and seven business days to resolve," Monahan said, Axios reported, citing unnamed sources. He said a senator would need to be "in a quarantine or isolated situation" until the test result came back.
The subject came up when one of the Republican chiefs of staff mentioned to Monahan that most senators are over 65 and in the high-risk category for the virus, and asked if he'd be able to offer the testing that's being done at the White House.
Monahan said he couldn't offer that kind of testing due to the lack of supply of the high-speed tests used for people visiting with the president, the news outlets reported.
The doctor also said he couldn't require senate offices to notify him of positive diagnoses because of patient privacy. But he added that he hoped senate offices would tell him anyway so he could do contact tracing, Axios reported.
House Speaker Nancy Pelosi chose to keep the House home, citing advice from Monahan, Axios noted.
On the call, the chief of staff for Senate Majority Leader Mitch McConnell, R-Ky., Sharon Soderstrom, listed a number of measures they'll be recommending for virus safety, Axios reported.
Continue Reading at Newsmax.