One Bank Spots A Signal That Guarantees A Market Bounce From Here – There Is Just One Catch…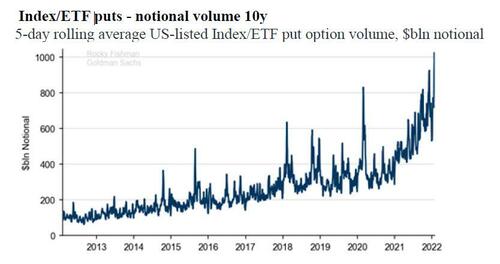 One Bank Spots A Signal That Guarantees A Market Bounce From Here – There Is Just One Catch…
Last week, we discussed the latest Goldman trading desk note according to which "everyone is now hedged for a crash", with the bank indicating that the market was averaging $1 Trillion worth of puts per day, the "largest on record" and adding that there has been several days where put notional set even higher daily records: "Monday for example $2.2 Trillion notional traded in US options market, with 64% puts ($1.4 Trillion) further adding LP hedges and taking the street further short gamma."
Why is this important? Well, besides our conclusion that acute downside to stocks is now limited as everyone who wants to be is hedged, overnight Sundial Capital Research picked up on this observation writing that hedging on U.S. stocks has risen to the highest level in almost two years, and reached a point that usually precedes equity gains.
"The behavior of scrambling for hedges across various products is a new development," Sundial's Jason Goepfert wrote in a note on Monday adding that his equity-hedging index climbed above 80% last week for the first time since early April 2020, he said, and "this is only the 33rd week in 22 years that it's been above that threshold. After 27 of those weeks, the S&P 500 rallied during the next couple of months."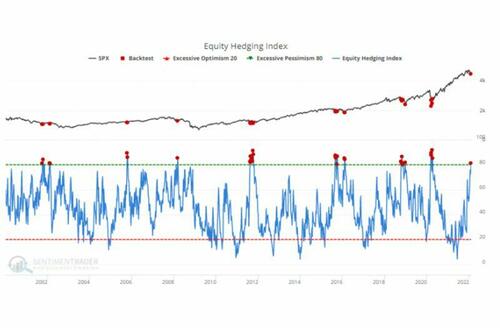 That said, the surge in put buying is at best a short-term reversal indicator, and Goepfert concedes that "almost every metric we watch is in negative territory, and investors are in risk-off mode. That is not a great
Continue reading One Bank Spots A Signal That Guarantees A Market Bounce From Here - There Is Just One Catch... at ZeroHedge.