Press Corps Blasts "Continued Efforts To Limit Access To The President" By The White House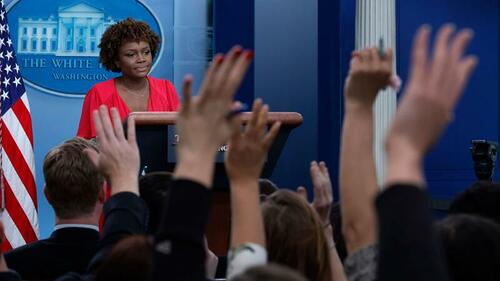 Press Corps Blasts "Continued Efforts To Limit Access To The President" By The White House
Authored by Steve Watson via Summit News,
The White House Press Corps has blasted "ahistoric" efforts to limit reporters' access to Joe Biden during briefings, charging that their presence is being unprecedentedly and severely restricted without explanation.
In a joint letter to Press Secretary Karine Jean-Pierre, the Corps pointed out that this isn't the first time complaints have been made about the practice and demanded that access, which was formerly unrestricted under other administrations, be restored.
The White House press corps has finally discovered this may not be the most transparent administration ever https://t.co/Upd6PLsW7D
— Kevin Dalton (@KevinForBOS) July 1, 2022
The letter states "We once again respectfully request the Biden administration – without exception-re-open all of the traditional venues for presidential remarks at the White House, including the East Room and the South Court Auditorium, for any reporter admitted to the White House campus."
The letter further asserts that "The current method of allowing a limited number of reporters into these events is not only restrictive and antithetical to the concept of a free press, but it has been done without any transparent process into how reporters are selected to cover these events."
"The continued inability of the White House to be candid and transparent about the selection process for reporters attending his remarks undermines President Biden's credibility when he says he is a defender of the First Amendment," the letter continues.
It adds that "The incongruity of these restrictions underscores the belief by many reporters that the administration seeks to limit access to the president by anyone outside of the pool, or anyone who might ask a
Continue reading Press Corps Blasts "Continued Efforts To Limit Access To The President" By The White House at ZeroHedge.