Roger Stone: The Corruption of Justice Part Two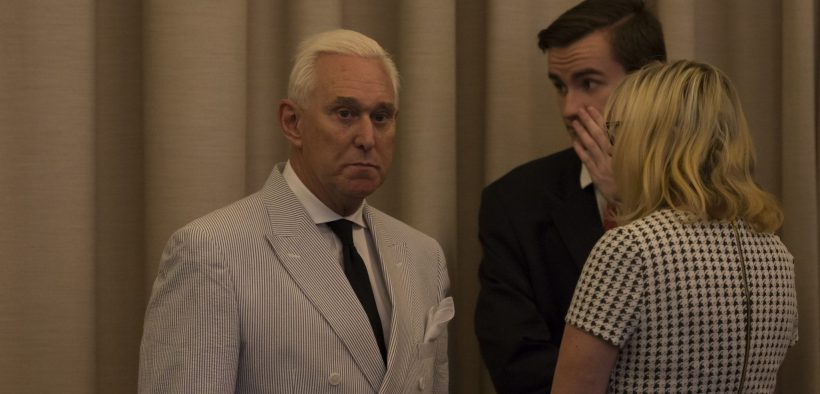 Roger Stone will shortly be headed to prison — by order of Judge Amy Berman Jackson, the date is now set for July 14 — in a serious miscarriage of justice that needs to be corrected. A miscarriage that must be corrected alongside a serious investigation into the corruption of the Obama-era Department of Justice and FBI.
As I wrote in this space back in February, the Stone case is nothing if not a spectacular corruption of justice. Among other things I noted this, as written up over there at CNN. The CNN headline:
Stone juror says she 'stands with' the prosecutors
The report begins this way:
(CNN) — A juror on the Roger Stone trial said she wants to "stand up" for the four prosecutors who withdrew from the case in response to their sentencing recommendation being changed by Department of Justice leadership.

Tomeka Hart said she had remained silent about the case for months out of concern for her safety and "politicizing the matter."

But the events this week led to her to post on her Facebook account that she "can't keep quiet any longer." A copy of the posting was shared with CNN. Hart confirmed to CNN that she wrote the post but did not want to discuss it further.

"I want to stand up for Aaron Zelinsky, Adam Jed, Michael Marando, and Jonathan Kravis — the prosecutors on the Roger Stone trial," she wrote in the post that was shared with CNN. "It pains me to see the DOJ now interfere with the hard work of the prosecutors. They acted with the utmost intelligence, integrity, and respect for our system of justice."
This is a classic in the way liberal media handles a story like this. What does CNN not say here in this story about the Stone jury foreman? This, as headlined at Fox News:
Roger Stone jury foreperson's anti-Trump social media posts surface after she defends DOJ prosecutors
The Fox story said:
Independent journalist Mike Cernovich, not CNN, then first reported that a slew of Hart's other publicly available Twitter and Facebook posts readily suggested a strong political bias. Some of Hart's posts were written as Stone's trial was in progress.
And what did Fox report on those tweets and Facebook posts from Hart say? Among other things, this:
Former Memphis City Schools Board President Tomeka Hart revealed Wednesday that she was the foreperson of the jury that convicted former Trump adviser Roger Stone on obstruction charges last year — and soon afterward, her history of Democratic activism and a string of her anti-Trump, left-wing social media posts came to light.

Hart even posted specifically about the Stone case before she was selected to sit on the jury, as she retweeted an argument mocking those who considered Stone's dramatic arrest in a predawn raid by a federal tactical team to be excessive force. She also suggested President Trump and his supporters are racist and praised the investigation conducted by Special Counsel Robert Mueller, which ultimately led to Stone's prosecution.

Meanwhile, it emerged that U.S. District Judge Amy Berman Jackson had denied a defense request to strike a potential juror who was Obama-era press official with admitted anti-Trump views — and whose husband workedat the same Justice Department division that handled the probe leading to Stone's arrest. And, another Stone juror, Seth Cousins, donated to former Democratic presidential candidate Beto O'Rourke and other progressive causes, federal election records reviewed by Fox News show.
In other words, as Roger Stone gets ready to do prison time, it is crystal clear he was prosecuted and convicted in a system that has become seriously infected with lynch-mob style politics, a system that is filled with both prosecutors, jury members, FBI and Department of Justice personnel whose sole objective is not justice but political retribution against any and everybody in any serious position of support for a candidate and now-president they despise.
In reality, Roger Stone is one more symbol of a federal government apparatus that views itself not as the servants of the American people who implement — but do not make — policy. Rather they see themselves as the leading wedge of the so-called "resistance" — a resistance not just to the President but to the millions of Americans who elected him president.
Come back to this story in the Washington Post in January of 2017. The headline:
To resist or not, the federal employee's dilemma
The Post story says this:
What would you do if you worked for an impetuous blunderbuss who ordered an action of dubious legality?

More precisely, when, if ever, do federal employees have the right to disregard a presidential order or administration policy?
This was but one story out there that more than hinted that the federal bureaucracy was out to thwart the duly elected President Trump. By now there is a small platoon of names from the FBI, the Justice Department, the State Department, and the Pentagon who have made plain they saw or see their role as using their government positions to target this President and his supporters and allies.
Roger Stone is but one of them. And in his case, like General Michael Flynn, Stone was the target for those inside the Justice Department and on a jury who wanted to make an example of him to any and every Trump appointee or ally that came into their line of sight. The objective with Stone as with Flynn was to destroy his life — bankrupt him, ruin his career and his family, all in the cause of a power-mad "resistance" politics that is corrupt to its core.
The larger question here — the much larger question — is the extent and depth of the Obama-era corruption of the Department of Justice, led in the day by Attorney General Eric Holder who openly described his role at Justice as to be the Obama "wingman." Holder was followed by Attorney General Loretta Lynch, who allowed FBI Director James Comey to run the FBI as his personal political anti-Trump fiefdom. And not to be forgotten is the Obama Deputy Attorney General, Sally Yates.
All of which means, somewhere along the line, Roger Stone should be on the receiving end of a presidential pardon.
Which is to say, at long last, Roger Stone, targeted in a corruption of justice by a corrupt Justice Department, finally at long last deserves justice.