Social Media Study Shows Growing DeSantis Boom Among Swing Voters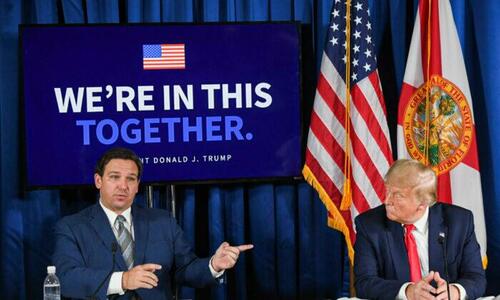 Social Media Study Shows Growing DeSantis Boom Among Swing Voters
Authored by John Ransom via The Epoch Times (emphasis ours),
An analysis of social media posts shared with The Epoch Times shows growing momentum for Florida's Republican Gov. Ron DeSantis as the GOP presidential nominee in 2024 among voters who aren't solidly in the Trump camp.
"A sizable portion of the positive discussion (32 percent) speak of him as preferable to Trump," said the summary analysis of the research paid for by the Ready for Ron Committee—a draft committee that is encouraging DeSantis to run for president.
"To them, he is the rightful heir and suggest the former president step aside and allow the younger man to run the gauntlet," the analysis said of the majority of surveyed voters.
The research, which was conducted by Impact Social, looked at 40,000 "swing" voters on social media and categorized them into ten segments, from "Disillusioned Trump" voters, Obama-turned-Trump voters, to "Bernie Sanders" voters.
U.S. President Donald Trump and Florida's Gov. Ron DeSantis hold a COVID-19 and storm preparedness roundtable in Belleair, Fla., on July 31, 2020. (SAUL LOEB/AFP via Getty Images) Trump Gets More Traction, But More Attacks Too
While the name Trump is more prominent on social media than DeSantis, Impact Social reported that Trump-related posts attract more negative sentiment, including among right-leaners who would otherwise favor the GOP in 2024.
Impact Social analyzed approximately 93,000 posts mentioning Trump and around 8,000 posts mentioning DeSantis made by the swing voters from June 1 to June 14.
"It is interesting to note that, despite many of these floating voters emanating from the right of the political spectrum, only a relatively small number come to Trump's defense," Impact Social said.
The recent hearings regarding the Jan. 6 breach also haven't
Continue reading Social Media Study Shows Growing DeSantis Boom Among Swing Voters at ZeroHedge.