The not-so-silent left-wing violence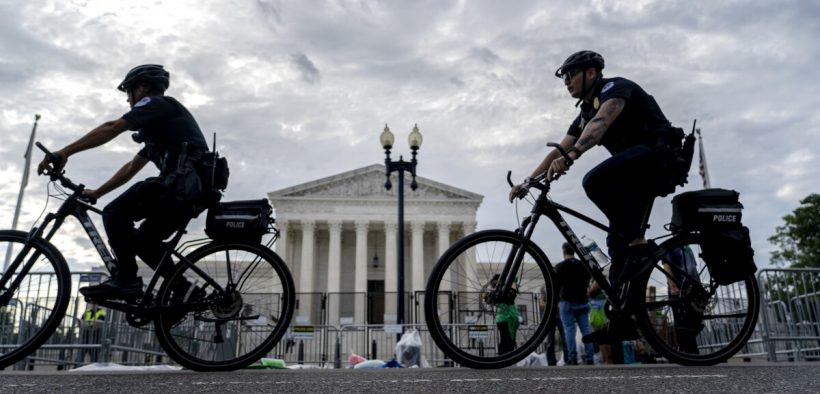 The Left loves to deploy catchy monikers in order to make their half-baked, horrifying, and often flat-out destructive policies seem more appetizing. One of the Left's most popular coined phrases, "silence is violence," was made popular during the Black Lives Matter protests and riots last summer. The idea is if you are not speaking up in support of their movement, then you are part of the problem.
The politically charged environment in which we now live has given a recent rise to actual violence by left-wing extremists. Gone are the days of Michelle Obama's moral call that "when they go low, we go high." For the new Left, it is "win" at all costs — even if that means resorting to despicable acts. Since the leak of the Supreme Court decision potentially overturning
Roe v. Wade,
for example, we have seen an organized effort of vandalism and the destruction of at least five crisis pregnancy centers. Central in this violent effort is a group called "Jane's Revenge." It has since
spray-painted,
broken windows, and thrown Molotov cocktails through the windows of right-to-life clinics across the country. After facing public scrutiny, Jane's Revenge said: "This is not a declaration of war. War has been upon us for decades. A war which we did not want and did not provoke. Too long have we been attacked for asking for basic medical care. Too long have we been shot, bombed, and forced into childbirth without consent." The statement also demanded "the disbanding of all anti-choice establishments" within 30 days and states that its first attack was "only a warning," but there will be future attacks until "the inalienable right to manage our own health is returned to us."
This reads like an al Qaeda demand letter. It clearly promotes violence. Left-wing organizations could not get their way within the means of the system, so now they are using any means necessary to get what they want.
Things are quickly getting out of hand.
Last week, a man was found outside of the Capitol building with a cache of weapons and ammunition. Another man in Wisconsin killed himself after he assassinated a retired county judge. That man had a target list that included other prominent elected officials. Perhaps the most chilling example came via the California man who was captured outside of Supreme Court Justice Brett Kavanaugh's house. The
wannabe assassin
had a gun, a knife, pepper spray, and a burglary kit. He told police that he was upset with Kavanaugh's position on Roe v. Wade. He has been charged with an attempt to kill a federal Judge.
Ironically, the Biden administration has remained largely silent on this string of violent attacks. Some Democrats have even thrown fuel onto the fire. Take Senate Majority Leader Chuck Schumer, for example, who recently warned Justices against overturning Roe v. Wade. As Schumer put it, "I want to tell you, Kavanaugh, you have released the whirlwind, and you will pay the price. … If you go forward with these awful decisions."
This escalated criminality is concerning. But it carries a lesson for the rest of us: The next time someone approaches you and says that "silence is violence," remind them that actual violence is being perpetrated by left-wing extremists.
That is something we must not stay silent about.
Ben Carson is the founder and chairman of the American Cornerstone Institute and was the 17th secretary of the Department of Housing and Urban Development.