Twitter's War on Trump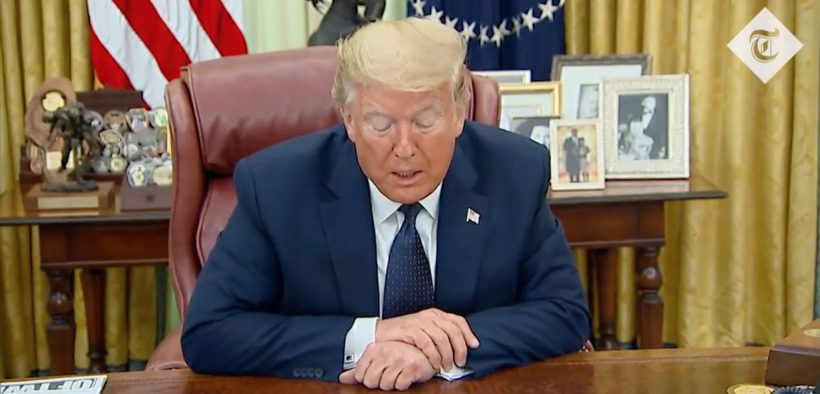 Since his 2015 campaign began, President Trump has used Twitter to get his message out without passing it through the filter of the print and broadcast media. He has millions of followers to whom he can immediately communicate whatever comes to his mind.
Trump not only has gotten his message out, he has bashed his opponents unmercifully, bragged about (and usually exaggerated) his accomplishments, and stooped to spar with radio and television hosts. Twitter proved such an effective tool for him that the lefties who run Twitter have decided to limit Trump's use of it.
Until last week, it had been very rare for Twitter bosses to censor or otherwise limit the tweets of heads of state.. Then they began posting "fact checks" based on CNN (!) reports to comment on Trump's Tweets.
The usual suspects on the left immediately condemned the Executive Order as an attempt to deny the right of free speech, which is the opposite of what it would do.
CNN? The least-trusted news organization in America, known only for its inaccuracy and enormous anti-Trump bias? Yes, that CNN.
On Friday, Trump posted a tweet about the Minneapolis riots, resulting from the death of George Floyd while in police custody. Trump tweeted that, "when the looting starts, the shooting starts." Twitter immediately posted a notice on Trump's tweet that blocked viewers from it until they read a "warning" that the tweet glorified violence, which it didn't.
Also on Friday, radical leftist Michael Moore had posted a tweet saying, "Good citizens burning down the evil police precinct in MN after all police were out & safe. All police should go home. No violence please. Police HQ must be demolished by the city tomorrow as a show of contrition to black America. Rebuild PD with decent kind ppl aka ppl of color."
The Twitter twits posted no warning on Moore's Tweet which obviously did glorify violence.
Twitter's Twits and the other social media have extraordinary legal protections which they believe permits them to behave this way. It all comes from Section 230 of the 1996 Communications Decency Act.
Section 230 does two things. First, it provides that internet publishers, of which the social media are among, cannot be held legally liable for what third parties post on their websites.
Second, and more importantly in Trump's case, Section 230 provides that the social media cannot be held liable for restricting people who post on their websites. It extends that immunity from liability to "…any action voluntarily taken in good faith to restrict access to or availability of material that the provider or user considers to be obscene, lewd, lascivious, filthy, excessively violent, harassing, or otherwise objectionable, whether or not such material is constitutionally protected."
That seems unobjectionable on its face. Every editor, and I speak from experience, is often presented with articles that fall outside the boundaries of reasonable political discussion. When I was editor of Human Events, I refused to publish dozens of such articles.
But the Twitter Twits aren't acting in good faith, as the contrasting tweets by Trump and Moore demonstrate. They are acting only to restrict Trump's use of one of his favorite political tools.
As the week went on, Trump first threatened to severely regulate the social media to prevent them from limiting conservative voices. He tried to make good on that threat by signing an executive order aimed at the social media.
Signed on Thursday, Trump's "Executive Order on Preventing Online Censorship" begins by saying that the social media platforms are the 21st century equivalent of the "public square," meaning that all constitutionally protected speech should be permitted. It goes on to say that,
It is the policy of the United States that the scope of that immunity should be clarified: the immunity should not extend beyond its text and purpose to provide protection for those who purport to provide users a forum for free and open speech, but in reality use their power over a vital means of communication to engage in deceptive or pretextual actions stifling free and open debate by censoring certain viewpoints.
To effectuate this policy, the EO orders that within sixty days of the order, the Secretary of Commerce, in consultation with the Attorney General and the National Telecommunications and Information Agency, petition the Federal Communications Commission to create rules clarifying and limiting the social media's immunities from liability. It particularly targets the meaning of the statute's term "acting in good faith" when the actions of the social media site are "deceptive, pretextual, or inconsistent with a provider's terms of service."
The EO also says, correctly, that no politician other than Trump, has been limited by warning labels that Twitter has placed on some of Trump's Tweets. Please remember the vast contrast between Trump's Tweets and those of Moore and his ilk. The limits on Trump are, at the very least, pretextual and inconsistent with both Twitter's terms of service.
The FCC can ignore the petition or it can act in some manner to protect the ability of conservatives, and the president, to post whatever political statements are within the bounds of Section 230.
The usual suspects on the left immediately condemned the EO as an attempt to deny the right of free speech, which is the opposite of what it would do. Twitter, Facebook, and the rest should be required to follow the law, not the political diktats of their bosses.
If and when the FCC acts, its rules will immediately be challenged in court — almost certainly in a court in California, which is within the Ninth Circus — and be tied up by injunctions for years. In short, don't expect that Twitter and the rest will change their behavior before the 2020 election or, perhaps, at any time in the near future.
Trump will, and should, continue his Twitter practice throughout the election campaign. Unfortunately, he rarely has an unexpressed thought. If Twitter keeps trying to limit him, they will find themselves a subject of his most derisive Tweets, statements, and speeches. They won't be able to stand the heat that all of Trump's millions of Twitter followers generate, which may be more effective than any FCC rule.