WATCH: Teacher Turns His High School Classroom Into a #Pride Nightclub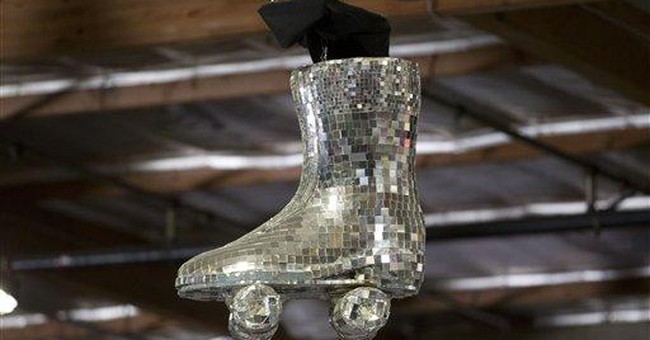 Rapidly, education is being reconfigured. Not too long ago, the institution involved academic disciplines such as English and science. These days, it seems more about ideology.
Critical Race Theory and gender identity appear progressively more emphasized than the subjects of yore. Additionally, there's a different sort of substantial change: Whereas study topics were once front and center, a trend finds classrooms increasingly becoming extensions of the teachers.
On social media, educators recount sharing their inner identities with "their" kids. They enthuse over the children accepting them or congratulating them for who they are.
And as class becomes more possessed by the one at the podium, personal flourishes further light up the room.
Take, for example, a video posted by Twitter account Libs of TikTok Sunday.
The clip's caption reads, "Welcome to my high school classroom/nightclub."
A man in a sequined medical mask pans around the room. His footage reveals a panoply of #Pride flags and the like.
Then in an instant, the class goes decidedly disco:
Libs of TikTok offers an image of the instructor in drag:
The photo refers to "Miss Gina Tonic," information on which can be found at www.BryanBone.ca.
From Bryan's bio:
I am a passionate and dedicated teacher and a proud "out" role model to my students in Richmond, B.C. I volunteer tirelessly with my school and school district to support safe inclusive opportunities for Richmond's LGBTQ+ youth and allies. Though early in my career I faced vicious homophobic harassment and bullying, I chose to come out publicly to support my LGBTQ+ students. I vowed to myself to be the positive queer role model I never had in high school. As a result, I have forged strong, long-lasting positive relationships with my students and many of their families. I also volunteer as the SOGI (Sexual Orientation, Gender Identity) teacher lead for my school and act as a mentor to my colleagues through collaboration and supporting professional development.
About Gina:
As Miss Gina Tonic, I have been entertaining audiences for years with colourful, campy, glitzy style. … I enjoy combining bold sequin and rhinestone glamour with wild and vibrant splashes of colour that are sure to dazzle! … As a teacher, my proudest moments in drag are sharing Drag Queen Story Time readings. For audiences of all ages, my story time readings are always a hit. Books which are selected with themes involving LGBTQ+, gender identity, equality are enthusiastically presented.
As for being an LGBT high school role model, mission accomplished. And although the teacher's classroom is in Canada, it doesn't ring untrue for America's public school apparatus.
In taxonomic terms, education hasn't simply adapted within the species; it's as if the establishment has become a wholly different domain. I recently wrote of such a thing:
Perhaps we've reached a point where a new name is in order. America's "schools" are no longer that, according to the traditional meaning of the word. These days, public education appears as…an ideological institution rather than a place where knowledge is on tap.

If the training centers were relieved of all academic burden, maybe new things could be built — things called "schools" — where young people could go to study subjects such as math and…literature.
Will such a split ever occur?
For now, future students likely have some classroom clubbing in store.
–
Continue Reading at Red State.