Watchdog subpoenas Google for Hillary Clinton emails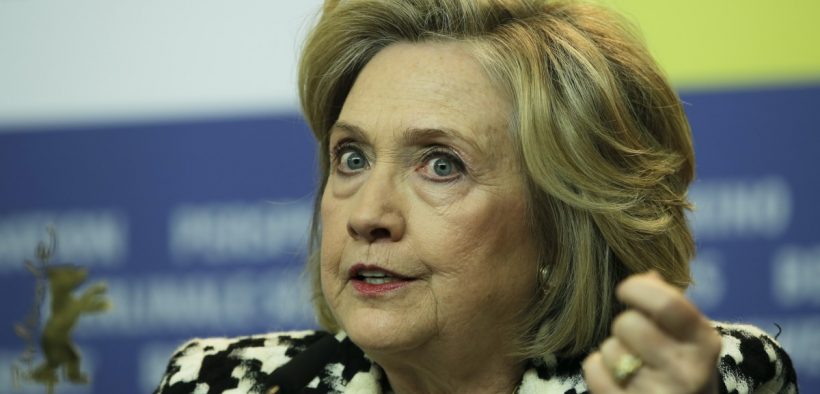 A conservative watchdog group served a court-authorized subpoena on Google to compel the company to hand over all the emails from a Google account which may contain thousands of Hillary Clinton's emails.
Judicial Watch, a conservative-leaning D.C.-based watchdog group, announced this week that it had served a subpoena against the Silicon Valley tech firm as part of its Freedom of Information Act court battle seeking all of Clinton's emails from her time as secretary of state, including the tens of thousands that were deleted from her private email server.
The group is specifically honing in on a Google email account belonging to Paul Combetta, the Platte River Networks information tech specialist who set and managed Clinton's email server and used BleachBit to help permanently delete Clinton's digital records. There is evidence to suggest that Combetta was automatically copying and forwarding emails from Clinton's private email server to a Google cache on another server.
The subpoena from Judicial Watch seeks every Clinton email from her time at the State Department from January 2009 until February 2013, and asked Google to hand the records over by May 13.
During a D.C. federal court hearing in August, U.S. District Court Judge Royce Lamberth noted the Google cache "does not appear to have ever been reconstructed and searched" and suggested Judicial Watch "ought to shake this tree."
And in March, Lamberth authorized the Google subpoena.
"The subpoena seeks to discover new emails, so it certainly relates to whether [the] State [Department] conducted an adequate search," Lamberth said. "The Court is not confident that State currently possesses every Clinton email recovered by the FBI; even years after the FBI investigation, the slow trickle of new emails has yet to be explained. For this reason, the Court believes the subpoena would be worthwhile and may even uncover additional previously undisclosed emails. Accordingly, the Court GRANTS this request."
Judicial Watch president Tom Fitton said "a federal court, tired of the State and Justice Departments' gamesmanship, authorized Judicial Watch's subpoena to Google to follow a lead on the Clinton emails."
The Washington Examiner has reached out to Google for comment.
The subpoena asked for "any and all Clinton emails, including metadata, sent or forwarded to or from or saved, stored, archive, or contained in the Gmail account associated with" CarterHeavyIndustries[at]gmail[dot]com, the email account set up by Combetta.
Combetta previously told the FBI he created a "dummy" email account to transfer archived emails into a mailbox entitled "HRC archive" on another server. The existence of that "dummy" email account was revealed in DOJ Inspector General Michael Horowitz's report on the Clinton email investigation, dubbed Midyear Exam, which he released in June 2018. Cambetta, who used software designed to prevent forensic recovery while deleting Clinton's emails, "refused to speak" with the DOJ inspector general or Congress.
Last year, Senate investigators, the FBI, the intelligence community inspector general, and the Justice Department inspector general were unable to confirm whether an intrusion into Clinton's server tookplace, and cast doubt on the idea that China hacked it.
The August memo from Sens. Chuck Grassley of Iowa and Ron Johnson of Wisconsin showed concerns about a Chinese state-owned company hacking Clinton's server were likely due to an over-reliance on a simple Google search. "Carter Heavy Industries" — a company name made up by Combetta — had a similar name to the Chinese firm "Shandong Carter Heavy Industry Machinery."
Frank Rucker, a former analyst for the intelligence community's inspector general, observed in late 2015 or early 2016 what he called an "anomaly" during his work-related review of emails from Clinton's private email server. Rucker said he believed the routing information of all but four of the 30,490 copies of Clinton's emails he looked at included a suspicious embedded email address.
Ultimately, the two inspectors general said DOJ's watchdog "did not identify any information obtained by the FBI during the Midyear investigation reflecting that Combetta's dummy email account was associated with a Chinese company or the Chinese government."
The FBI said it was only able to recover some of the emails Combetta scrubbed, and they were released in tranches up until earlier this year as part of a lawsuit brought by Judicial Watch. Clinton has said she "never received nor sent any material that was marked classified," but the FBI Director James Comey called her actions "extremely careless" and the bureau found 110 emails did contain classified information.
Combetta initially told the bureau he did not recall erasing the messages nor seeing a preservation order from Congress, but later walked back those assertions. Combetta was given immunity by the Justice Department during the investigation into Clinton's email server.
Earlier this month, the State Department and Justice Department declined to join Clinton's effort to convince an appeals court to let her dodge a judge-ordered sworn deposition about her use of a private email server and the 2012 Benghazi terrorist attack.
"The Court agrees with Judicial Watch — it is time to hear directly from Secretary Clinton," Lamberth ruled in March while also ordering former Clinton chief of staff Cheryl Mills to be deposed by the conservative watchdog.
Clinton's legal team responded last month by asking an appeals court to order the lower court to correct what Clinton's lawyers saw as an "inappropriate" and "unnecessary" decision.
The State Department, represented in court by Justice Department lawyers, declined to join Clinton's legal argument, noting Clinton's "unusual decision to use a private email server to systematically conduct large volumes of official business."
Judicial Watch wants to question Clinton and Mills about the talking points for former United Nations Ambassador Susan Rice's appearances on television shows following the terrorist attack on the U.S. Consulate in Benghazi. Members of Ansar al Sharia launched a coordinated assault on Sept. 11, 2012, killing U.S. Ambassador to Libya Christopher Stevens, foreign service officer Sean Smith, and CIA contractors Tyrone Woods and Glen Doherty. Clinton, Rice, and others incorrectly blamed the attack on a YouTube video.