Why Biden Could Come Back From Saudi Arabia Empty-Handed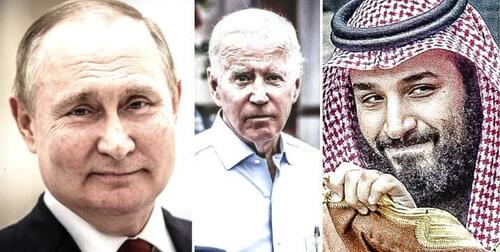 Why Biden Could Come Back From Saudi Arabia Empty-Handed
Authored by Tsvetana Paraskova via OilPrice.com,
Biden is set to travel to Saudi Arabia this week to plead his case for additional oil output.
The trip may end in disappointment as Middle East producers have very little capacity to spare.
A razor-thin global capacity cushion would make supply shocks even more shocking to the market.
As U.S. President Joe Biden travels on his first visit to the Middle East this week, he and his team will make the case for the need for additional oil supply to the market.   The Middle East is just the right place to go when oil supply is concerned. Unfortunately for President Biden and for consumers in America and elsewhere, the biggest oil producers in the Middle East have very little to offer in the short term to alleviate the pain at the pump. Saudi Arabia, the world's biggest crude oil exporter, may not have the capacity and/or the willingness to tap deeper into capacity despite the continuous calls from major oil-consuming nations.  
The top OPEC producers, all of which are in the Middle East, have some spare oil production capacity left, but the actual numbers are shrouded in mystery, and analysts are only guesstimating how much oil Saudi Arabia and the United Arab Emirates (UAE) could add to the market if they wanted to. 
Middle East Energy Resources Vital For Global Supplies
Since oil prices started rallying at the end of last year, and especially since Russia's invasion of Ukraine sent oil prices above $100 per barrel earlier this year, President Biden has called several times on OPEC producers to raise production by more than
Continue reading Why Biden Could Come Back From Saudi Arabia Empty-Handed at ZeroHedge.