ADP Employment Report Signals Weakest Labor Market Since Jan 2021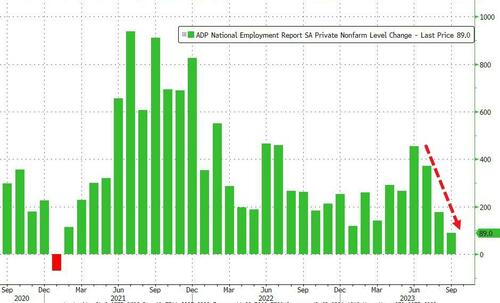 ADP Employment Report Signals Weakest Labor Market Since Jan 2021
After ADP's reports printed almost perfectly in line with BLS last month (+177k vs +187k), all eyes are on today's print, which was expected to decline to +150k. Instead it plunged to just +89k – that is the lowest jobs addition since Jan 2021…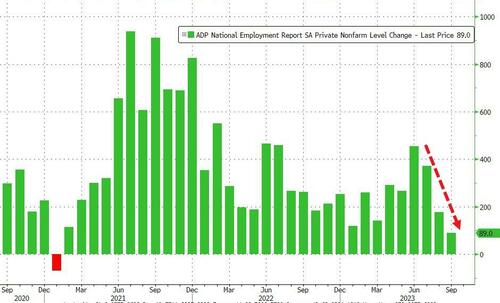 Source: Bloomberg
The ADP print is around half the expectation for Friday's NFP print of +170k. Large firms dominated the weakness…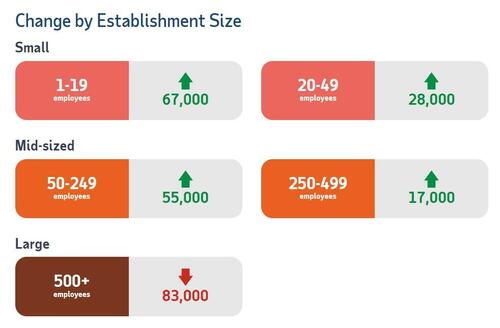 Manufacturing and Professional & Business Services saw large declines in jobs (ADP says professional business services down 32K, BUT JOLTS reported a 509K increase in professional and business services job openings!!!!)
"We are seeing a steepening decline in jobs this month," said Nela Richardson, chief economist ADP.
"Additionally, we are seeing a steady decline in wages in the past 12 months."
Job stayers saw a 5.9 percent year-over-year pay increase in September, marking the 12th straight month of slowing growth.
Pay gains also shrank for job changers, to 9 percent, down from 9.7 percent in August.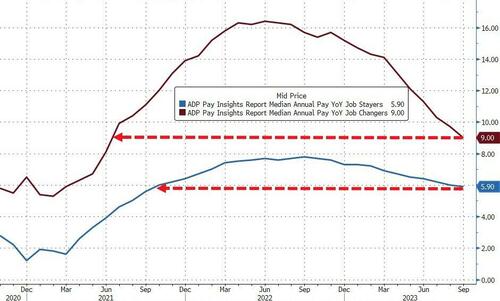 Wage growth for women – across all age cohorts – is faster than for men…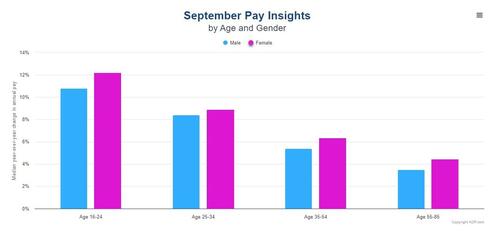 Finally, as we noted recently, the ADP Research Institute, the research arm of the payroll processing firm, released a new report about a 'real-time way' to measure worker motivation. What they found is that a majority of workers aren't motivated, and this might impact long-term productivity. 
Researchers said, "We designed the Employee Motivation
Continue reading ADP Employment Report Signals Weakest Labor Market Since Jan 2021 at ZeroHedge.