Hawley Wrecks Garland Over DOJ Bias, While Cruz and Lee Finish Him Off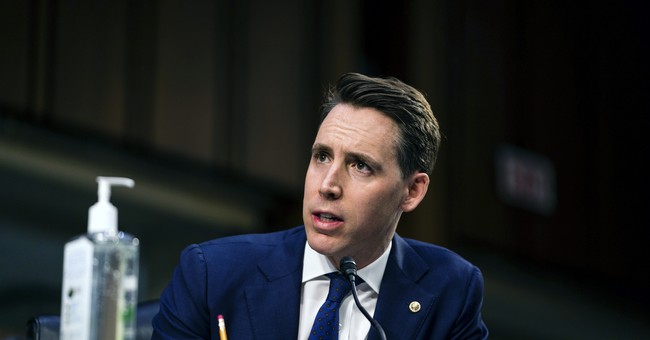 We dodged a big bullet when we avoided getting Merrick Garland on the Supreme Court. His stint as Attorney General under Joe Biden has shown what a feckless soul he is and how woefully wrong he would have been for the Court.
On Wednesday, Garland appeared before the Senate Judiciary Committee to answer questions on a variety of issues and as we reported, he got eaten alive by Sen. Ted Cruz (R-TX) when it came to ignoring threats to the Supreme Court justices.
But the senators also took him to task over the treatment of pro-life activists versus the investigations into attacks on crisis pregnancy centers. Sen. Josh Hawley went to town on him with the shameful way that pro-life activist Mark Houck was treated by the FBI before the eyes of his screaming children and left Garland sputtering as he tried to explain the treatment.
"You used an unbelievable show of force with guns, that I'd just note liberals usually decry…You're happy to deploy them against Catholics and innocent children!" Hawley exclaimed.
Normally, for such a minor offense, you wouldn't be pursued, but if you were, the authorities would arrange for you to turn yourself in, as that would be safer for all concerned. As Hawley noted, raiding a home with guns drawn was far from what Garland claims his policy is, i.e., to use "only the force which is objectively reasonable."
Yet, at the same time as they raid the homes with guns drawn against pro-life activists in front of their screaming children, the DOJ seems to be completely failing when it comes to going after the terrorists who have been firebombing crisis pregnancy centers and attacking churches. You have a declared group that has been involved in it. Listen as Sen. Mike Lee (R-UT) explains how there have been 81 attacks on the centers and 130 attacks on Catholic churches, and only two people charged — this, even though you have a group that has openly taken responsibility for some of the attacks. Lee pointed out the obvious disparity in approach:
Garland had no credible response, saying they are "clever" — they're so clever they take credit for it and you can't figure out who they are? That says something about how bad the FBI and the DOJ are if they aren't able to do more than they have done. So either we have the choice between they're bad at their jobs, or there's deliberate and unconscionable bias.
Continue Reading at Red State.