Biden Admits U.S. Military Running 'Low' on Munitions to Give Ukraine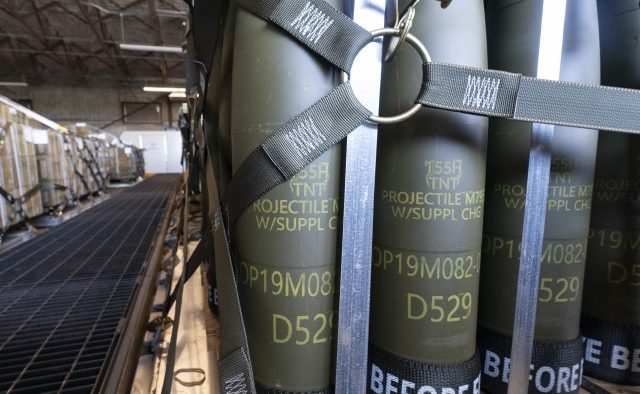 President Joe Biden during a recent interview admitted that the United States military was running low on ammunition for Ukraine.
Biden said during an interview Friday with CNN's Fareed Zakaria on why he decided to green-light giving Ukrainian forces cluster bombs, despite disagreement among allies:
This is a war relating to munitions. And they're running out of that ammunition, and we're low on it… . And so, what I finally did, I took the recommendation of the Defense Department to – not permanently – but to allow for this transition period, while we get more 155 weapons, these shells, for the Ukrainians.
The U.S. has sent billions in military equipment to Ukraine, under what is referred to as "presidential drawdown authority," which allows the U.S. military to transfer its equipment to other nations' forces.
The Pentagon has insisted that it would not affect U.S. military readiness and that the equipment is coming from excess supplies. However, the controversial decision to send cluster bombs to Ukraine reveals exactly how threadbare those excess supplies are running to support a war that has been fought mostly with artillery.
The Biden administration has painted the decision to send cluster bombs as only temporary, until it can produce enough 155 mm artillery rounds for Ukraine, which the U.S. has been struggling to do since it began supporting Ukraine in its war with Russia beginning February 2022.
"This decision will ensure we can sustain our support for Ukraine by bridging us to a point where we are producing sufficient artillery ammunition on a monthly basis across the coalition," the Pentagon's top policy official Colin Kahl said during a briefing Thursday.
More than 100 countries have banned the use of cluster bombs under the Convention on Cluster Munitions, although the U.S. and Ukraine are not signatories.
The UK and Spain have called on Joe Biden to not send cluster bombs to Ukraine amid concerns over danger to civilian populations. https://t.co/TBVfXCst2C

— Breitbart News (@BreitbartNews) July 10, 2023
Biden during the interview said he believed the Ukrainians needed the bombs to keep the Ukrainians' so-called counteroffensive going.
"The main thing is they either have the weapons to stop the Russians now – keep them from stopping the Ukrainian offensive through these areas – or they don't. And I think they needed them," he said.
Defense officials have not given an exact number as to how many bombs they are sending –only saying "hundreds of thousands."
Kahl argued that Ukraine's use of cluster bombs were justified, whereas Russian use of them was not.
"Russia has been using cluster munitions indiscriminately since the start of this war in order to attack Ukraine. By contrast, Ukraine is seeking [them] in order to defend its own sovereign territory," he said.
He argued the ones that Russia was using had a higher dud rate, which would cause more collateral damage. He argued the ones that the U.S. were sending to Ukraine had a lower dude rate, and that Ukraine has assured the U.S. they would not use them indiscriminately.
"They will be reporting their usage back to us, and so we can always make judgments later if we feel like those assurances are not being met. But I'm confident that the Ukrainians will be true to their word," he argued.
He said the U.S. would continue "coaching and mentoring" Ukrainian forces on using them.
"I'll also say that like with every system that we provide the Ukrainians, there will be not just training, but kind of coaching and mentoring associated with this," he said.
"And I think one of the reasons why the Ukrainians have been so effective in employing the artillery they have had, regardless of system, is that they've received some coaching and mentoring from the United States about the best deployment of that, and so we'll continue to do that."
Meanwhile, the decision to send cluster bombs to Ukraine has met resistance in Congress from Democrats and some Republicans.
Rep. Matt Gaetz (R-FL) announced on Twitter that he would co-sponsor legislation by Rep. Sara Jacobs (D-CA) to stop the administration from sending the cluster bombs.
"These cluster bombs will not end the war in Ukraine and will not build a more stable country," he tweeted.
BREAKING: I will be the Republican co-sponsor on the NDAA amendment introduced by @RepSaraJacobs to stop the transfer of cluster bombs.

These cluster bombs will not end the war in Ukraine and will not build a more stable country.

Children will be left without limbs and without… pic.twitter.com/xmu8KAWPEt

— Rep. Matt Gaetz (@RepMattGaetz) July 10, 2023
Follow Breitbart News's Kristina Wong on Twitter, Truth Social, or on Facebook.