Chicago Mayor Lori Lightfoot Believes Race and Gender Contributed to Her Reelection Loss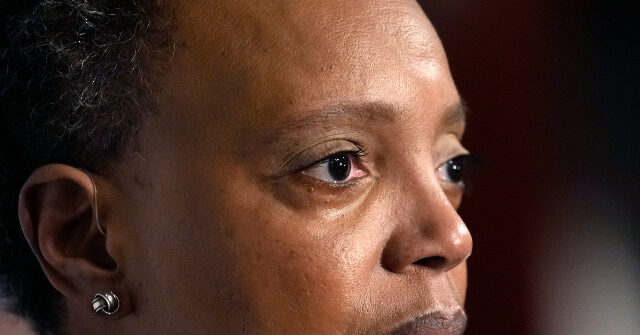 Chicago Mayor Lori Lightfoot (D) has attributed her loss in Tuesday's election in part to racial and gender-based discrimination.
News One reported that after conceding Chicago's mayoral election on Tuesday, Lightfoot was asked if she believed her race and gender had contributed to her loss.
"I'm a Black woman in America," she replied. "Of course."
Lightfoot has expressed versions of this sentiment since the beginning of her campaign.
NPR noted that when Lightfoot announced she would be seeking reelection back in June, she told supporters, "I'm a Black woman in America. People are betting against us every single day."
Lightfoot told the New Yorker in a late February interview that she believed her race and gender contributed to her being "portrayed in the media" as an ineffective mayor.
"And, look, also, I am a Black woman—let's not forget," she told the publication. "Certain folks, frankly, don't support us in leadership roles."
Lightfoot has only 17.1 percent of votes against Paul Vallas's 33.8 percent share and Brandon Johnson's 20.3 percent, the New York Times election dashboard indicates. With only six percent of the vote outstanding, it is possible to project that Lightfoot will fail to advance to the runoff election.
As Breitbart News noted Tuesday night, Lightfoot is the first Chicago mayor to lose a reelection bid in four decades.
The hicago Sun-Times noted Lightfoot's loss came at a time when "violent crime and the perception of it [are] foremost on the minds of voters."
Chicago Police statistics show reports of serious crimes increased by 41 percent from the previous year in 2022.
ABC 7 Chicago noted in 2022 that Chicago's murder rate per capita was four times higher than New York City's.
Meanwhile, citing data from the Office of the Inspector General, CWB Chicago reported the Chicago Police Department had shrunk by more than 1,500 officers between Lightfoot's inauguration in 2019 and 2023.
However, even as recently as January, Lightfoot expressed optimism about her approach to crime issues.
 "When it comes to addressing crime in our city, I've got a plan — and it's working," she wrote in a tweet.
When it comes to addressing crime in our city, I've got a plan — and it's working. I won't quit until we're the safest big city in America. pic.twitter.com/SKQBlDw1iI

— Lori Lightfoot (@LoriLightfoot) January 10, 2023
At a March 2022 symposium on "Mental Health, Substance Use, and Violence Prevention," Lightfoot described violence as "a symptom of poverty," CBS News reported.
"And if we want lasting peace in our city, we've got to address those root causes," she added.
Lightfoot told the New Yorker in February, "The traditional strategy of law enforcement first and only, with nothing else, it does not work."
Meanwhile, Vallas, who came in first place in the general election, ran a "disciplined campaign singularly focused on [a] law-and-order message," per the Sun-Times.
Vallas and Johnson will advance to the runoff election, which is scheduled for April 4.