Distract, Divide, & Conquer: The Painful Truth About The State Of Our Union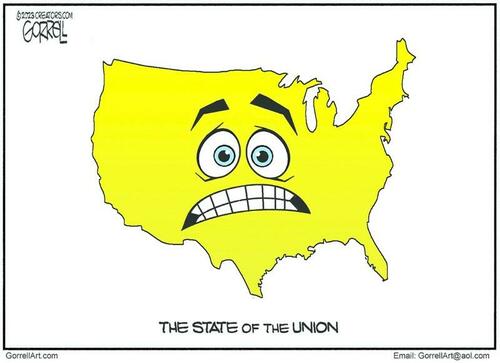 Distract, Divide, & Conquer: The Painful Truth About The State Of Our Union
Authored by John & Nisha Whitehead via The Rutherford Institute,
Step away from the blinders that partisan politics uses to distract, divide and conquer, and you will find that we are drowning in a cesspool of problems that individually and collectively threaten our lives, liberties, prosperity and happiness.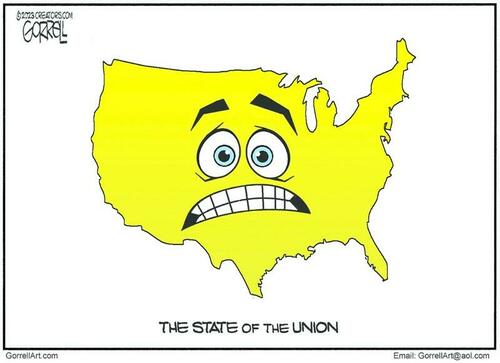 These are not problems the politicians want to talk about, let alone address, yet we cannot afford to ignore them much longer.
Foreign interests are buying up our farmland and holding our national debt. As of 2021, foreign persons and entities owned 40.8 million acres of U.S. agricultural land, 47% of which was forestland, 29% in cropland, and 22% in pastureland. Foreign land holdings have increased by an average of 2.2 million acres per year since 2015. Foreign countries also own $7.4 trillion worth of U.S. national debt, with Japan and China ranked as our two largest foreign holders of our debt.
Corporate and governmental censorship have created digital dictators. While the "Twitter files" revealed the lengths to which the FBI has gone to monitor and censor social media content, the government has been colluding with the tech sector for some time now in order to silence its critics and target "dangerous" speech in the name of fighting so-called disinformation. The threat of being labelled "disinformation" is being used to undermine anyone who asks questions, challenges the status quo, and engages in critical thinking.
Middle- and lower-income Americans are barely keeping up. Rising costs of housing, food, gas and other necessities are presenting nearly insurmountable hurdles towards financial independence for the majority of households who are scrambling to make ends meet. Meanwhile, mounting layoffs in the tens of thousands are adding to the fiscal pain.
The
Continue reading Distract, Divide, & Conquer: The Painful Truth About The State Of Our Union at ZeroHedge.