FBI Director Christopher Wray Refuses to Say Hunter Biden Laptop Story Is Not 'Disinformation'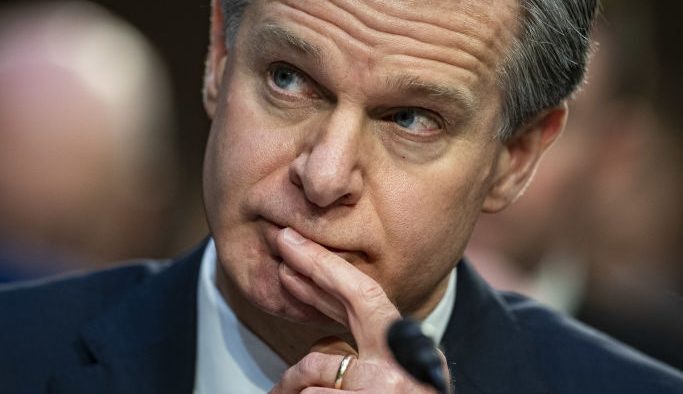 FBI Director Christopher Wray on Thursday during a House hearing refused to say whether he believed the Hunter Biden laptop story was "disinformation," despite exhaustive reporting confirming it is real.
Rep. Elise Stefanik (R-NY) asked Wray point blank during a House Intelligence Committee hearing: "Do you believe the Hunter Biden laptop story is disinformation?"
Wray refused to say "yes" or "no."
"Well, I want to be careful about it — there is an ongoing investigation that is relevant to that, so I have to be careful on what I can share on that here," he responded vaguely despite Stefanik not asking for details but rather his personal beliefs.
Stefanik asked Wray the same question again: "Do you believe that the Hunter Biden laptop story is disinformation?"
He responded, "I don't think there's anything that I can share on that in an open setting."
The idea that the Hunter Biden laptop story is "disinformation" has been thoroughly debunked.
When the New York Post in October 2020 broke the bombshell story that Hunter Biden abandoned a laptop in a computer repair shop in Delaware that contained thousands of emails detailing his family's business dealings with shady Chinese and other foreign business partners, Democrats claimed it was Russian disinformation.
More than 50 former intelligence officials and experts signed a letter claiming it was Russian disinformation, and Twitter locked the New York Post out of its Twitter account and suppressed anyone who tried to share the story. Facebook also suppressed the story.
However, since the Post's initial reporting, there has been numerous reports — many of them belated — by the establishment media confirming that the laptop and its contents were indeed real.
Just last month, former Director of National Intelligence James Clapper, who had signed the letter, claimed to the Washington Post that the letter's message was distorted by Politico, which had first reported on it, and that the letter was not actually calling the story disinformation, but raising the prospect.
Wray also denied under questioning from Stefanik that FBI personnel were in contact with Twitter about the Hunter Biden laptop story.
"I don't believe FBI personnel were in contact with Twitter about the Hunter Biden laptop story specifically, I think there were people in contact with Twitter about Russian disinformation efforts."
New York Times Now Admits Hunter's Laptop Is Real! Watch The Media When the Story First Broke… pic.twitter.com/mGSfXMz1zl

— Breitbart News (@BreitbartNews) March 18, 2022
However, as revealed in Twitter documents released by Twitter CEO Elon Musk to independent journalist Michael Shellenberger, the FBI did indeed pressure Twitter to suppress the story by warning it could be part of a Russian "hack and leak" operation.
FBI Agent Elvis Chan reached out to Twitter's then-head of trust and safety Yoel Roth just hours before the New York Post published its first story on the laptop on October 14, 2020, though it is not known exactly what about.
Chan had also arranged temporary Top Secret security clearances for Twitter executives so that the FBI could alert them to purported threats beginning 30 days before the November 3, 2020, election, the Post reported.
Roth later said in a sworn declaration that the FBI had primed him to view any reporting on the Hunter Biden's laptop as a "Russian 'hack and leak' operation."
In addition, after the story broke, former FBI general counsel Jim Baker, who was Twitter's new general counsel, urged Twitter to censor the story, insisting there were "some facts that indicate the materials may have been hacked," and claiming, "I've seen some reliable cybersecurity folks question the authenticity of the emails in another way (i.e. that there is no metadata pertaining to them that has been released and the formatting looks like they could be complete fabrications)."
Baker then arranged a call with FBI lawyer Matthew Perry, according to Shellenberger.
Hunter Biden's laptop repairman, John Paul Mac Isaac, said an FBI agent threatened him to stay silent after Isaac told the agent he would change the FBI agents names when he published a book about the "laptop from hell." https://t.co/VM9tWxrZuU

— Breitbart News (@BreitbartNews) August 13, 2022
Baker would later send an email to FBI employees thanking them for protecting Twitter users and voters from "misinformation/disinformation."
Wray also refused to confirm the New York Post's reporting that the FBI had Hunter Biden's laptop in December 2019 — which would have given the FBI plenty of time to verify its content and origins. "I can't speak to exactly when we had the laptop available," Wray said.
Stefanik slammed his non-responses. "This stone-walling Director Wray — the American people deserve answers and this is unacceptable."
Follow Breitbart News's Kristina Wong on Twitter, Truth Social, or on Facebook.