Homebuyers Need To Earn 13% More In 2022 To Afford Their First Home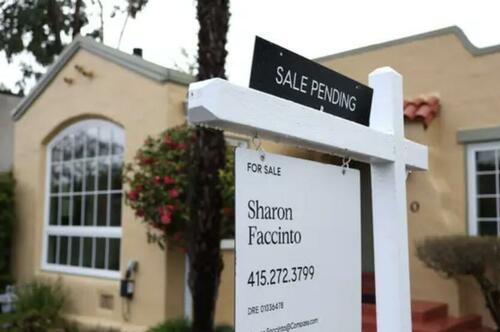 Homebuyers Need To Earn 13% More In 2022 To Afford Their First Home
Authored by Bryan Jung via The Epoch Times,
First-time homebuyers are facing some of the highest home prices in years, in the midst of high inflation and mortgage rates, according to a new report.
The strain on household budgets comes in the midst of the ongoing housing shortage, which pushed the cost of starter homes to a record high.
Redfin noted in a July 28 report that first-time buyers need to earn $64,500 per year to afford a home at this point – a $7,200 or 13 percent increase from 2022.
The average sale price of a typical starter home reached $243,000 in June, up 2.1 percent from a year ago and 45 percent above pre-pandemic levels, said the real estate brokerage.
San Francisco, Austin, and Phoenix are currently the only metro regions where home buyers are able to purchase a starter home from below last year's average rates, said Redfin.
Meanwhile, buyers in Miami needed 25 percent more income than last year to afford the average price of a starter home at $300,000.
Home Prices Surge Again This Summer
After a brief cooldown, home prices rose again in much of the country, after the Federal Reserve hiked interest rates again in July to slow inflation.
Meanwhile, the median cost of a home in the United States rose to over $400,000 for the third time on record, according to data from the National Association of Realtors (NAR).
"Homebuyer affordability is still strained this summer, with mortgage rates remaining high and volatile, and home prices high because of low inventory," said Edward Seiler, an associate vice president at MBA.
Average mortgage rates hit 6.7 percent in June,
Continue reading Homebuyers Need To Earn 13% More In 2022 To Afford Their First Home at ZeroHedge.