Just Make it Up: Job Openings Unexpectedly Soar As Labor Department Now Guessing What The Number Is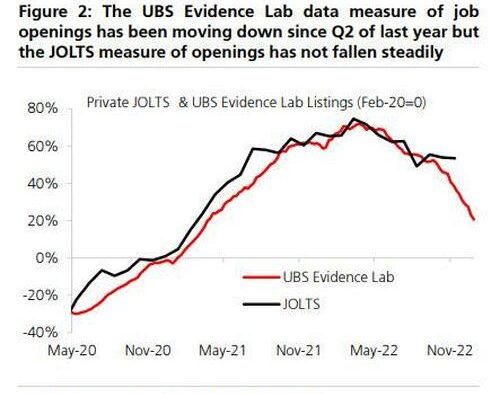 Just Make it Up: Job Openings Unexpectedly Soar As Labor Department Now Guessing What The Number Is
What a coincidence: just yesterday we presented the latest report from UBS economists showing that the job openings "data" collected and presented by Biden's Department of Labor is at best wrong (and at worst, manipulated propaganda meant to make the labor market appear stronger than it is), and that the reality is far worse than the BLS suggests, with real openings down 30% from the March 2022 peak and only 25% higher than the 2019 average.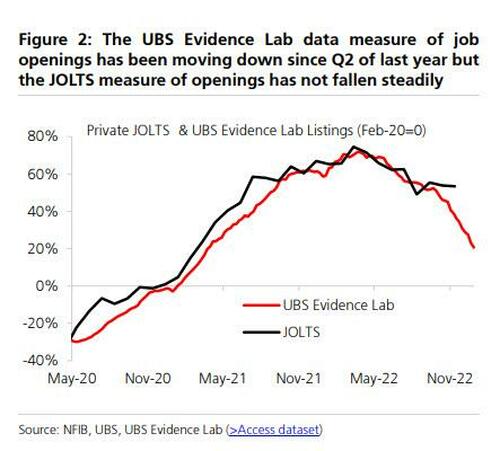 Of course, this latest confirmation that the Bureau of Labor Statistics is making up data as it goes along comes at a time when the Philly Fed showed that the Biden admin's payrolls number was overstated by over 1 million in Q2 2022, and that the number of layoffs was far higher than the DOL shows, as Goldman calculated.
So faced with a difficult choice: either come clean about the real labor numbers – now that US corporations are averaging one mass layoff announcement every 45 minutes – or just double down and keep reporting increasingly bigger lies, the Biden admin's labor department has sadly but predictably decided to do what it does best by picking option two, and as today's latest JOLTs report shows, it intends to keep digging and making the hole ever bigger.
To wit: after job openings dropped modestly for the previously two months into the waning months of 2022, in December (recall JOLTS is one-month lagged to the NFP report), and completely out of the blue,  job openings exploded by a massive 572K, the most since July 2021 when the US was indeed on a crazy hiring
Continue reading Just Make it Up: Job Openings Unexpectedly Soar As Labor Department Now Guessing What The Number Is at ZeroHedge.