Kremlin Rejects "Absolute Lie" That Putin Ordered Killing Of Wagner's Prigozhin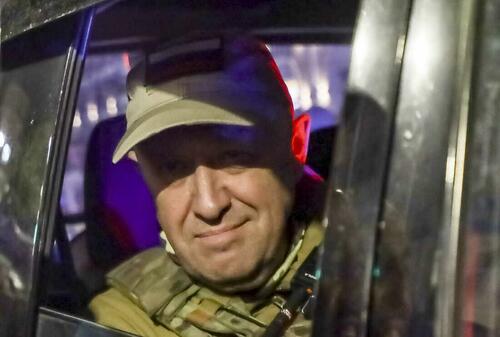 Kremlin Rejects "Absolute Lie" That Putin Ordered Killing Of Wagner's Prigozhin
Russian investigators say they are currently conducting DNA testing on the recovered bodies from the Wednesday plane crash northwest of Moscow believed to have killed Wagner chief Yevgeny Prigozhin and his top commanders.
In yesterday's condolence speech, President Putin referred to the Wagner chief in the past tense, remembering him as a "talented" businessman who made "mistakes"—which was widely seen as high level confirmation he went down in the plane.
State media sources have revealed new details of the status of the investigation at the crash site, with RT underscoring that DNA tests will take time, and that "the probe was entrusted to Ivan Sibula, a senior investigator who previously led inquiries into high-profile air incidents in Russia."
As for the US reaction, President Joe Biden had been quick to point the finger directly at Putin, saying while on vacation Wednesday he was "not surprised" as "There's not much that happens in Russia that Putin's not behind." Biden had been briefed soon after reports of the crash emerged, but said, "I don't know enough to know the answer. I've been working out for the last hour and a half."
A Thursday Pentagon briefing gave an official US assessment, with Pentagon spokesman Gen. Pat Ryder saying an intentional explosion brought down Prigozhin's plane. Ryder called initial US reports of a surface-to-air missile "inaccurate" amid other reports saying it was a bomb detonated midair. The Pentagon assessed that Prigozhin was likely on board and was killed in the crash, but didn't attempt to posit a precise cause.
Interestingly, Ryder also strongly suggested that Wagner mercenaries are no longer active in a significant way on the Ukraine battlefield:
Continue reading Kremlin Rejects "Absolute Lie" That Putin Ordered Killing Of Wagner's Prigozhin at ZeroHedge.