Mish: Contrary To Popular Myth, Brexit Was Not A Bad Decision And Did Not Fail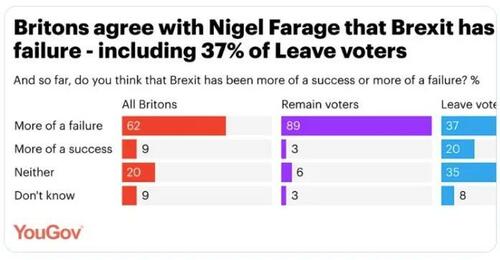 Mish: Contrary To Popular Myth, Brexit Was Not A Bad Decision And Did Not Fail
Authored by Mike Shedlock via MishTalk.com,
The Atlantic says "Britain is now paying the price for its decision to leave the European Union." I take the other side…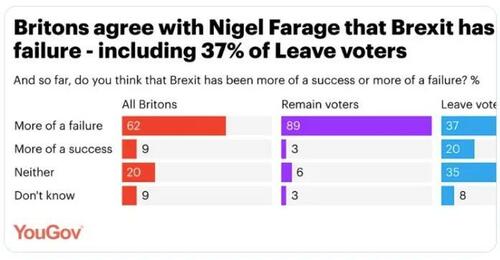 A friend of mine emailed an article on Brexit by The Atlantic, 'We're All Worse Off' (paywalled).
The Irish News reports Just 9% of Britons say Brexit more of a success than failure, poll suggests
Nigel Farage has said that Brexit has been a failure – 62% of Britons tend to agree
% saying Brexit has been…
All Britons
More of a failure: 62%
More of a success: 9%
Neither: 20%
Leave voters
More of a failure: 37%
More of a success: 20%
Neither: 35%https://t.co/vsxKByczLu pic.twitter.com/DoqbQ5W5pu
— YouGov (@YouGov) May 22, 2023 Perception vs Reality
I responded to my friend that failure is a perception because Britain did none of the things to make Brexit work.
Consider UK policy after Brexit: No tax cuts, no trade deal with the US or China, No dismantling of inept EU rules and regulations, no progress on things like artificial intelligence or energy. 
This is not a failure of Brexit, it is a failure to take advantage of things possible without being tied to the EU. 
Sunrise 
A few days after I emailed my friend, Eurointelligence, admitted in an article called "Sunrise" that my view is the correct one.
It was always nonsensical to replace the entire volume of some 4000 EU regulations on a single day. The majority are unproblematic. The intellectual and operational difficulty with Brexit is to select specific areas where regulatory divergence makes sense. We all know about the costs of Brexit are transparent, but the opportunities
Continue reading Mish: Contrary To Popular Myth, Brexit Was Not A Bad Decision And Did Not Fail at ZeroHedge.