Oil Markets Underestimating The Risk Of A Middle East Blowout
Oil Markets Underestimating The Risk Of A Middle East Blowout
Authored by Alex Kimani via OilPrice.com,
Commodity experts are now saying the oil markets have underpriced the risk of further escalation of the Israel-Hamas conflict.
The price response to the escalation in the Middle East tensions has so far been modest.
StanChart: Middle East geopolitical risk is currently being significantly under-priced and the current fundamentals alone are enough to justify a complete reversal of this month's price undershooting.
Last week, the Israeli government ordered its state-run electricity company to halt power supply to the Gaza Strip days after Palestinian militant group Hamas launched a surprise attack on the country. The Israeli prime minister's office revealed that the security cabinet has approved several steps to destroy the military and governmental capabilities of Hamas and Islamic Jihad "for many years", in a war that has seen more than 3,000 Palestinians and about half as many Israelis killed.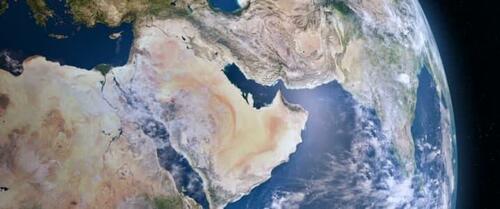 But now there's a growing risk this could escalate into a regional conflict after Lebanon-based Hezbollah warned that it's ready to fully enter the war in support of Hamas. Indeed, there are growing fears that Hezbollah may open a new front against Israel at the behest of its leaders and their Iranian backers while Iran has warned of preemptive action against Israel if it goes ahead with a ground offensive.
And some commodity experts are now saying the oil markets have underpriced this risk, and oil prices could skyrocket if the situation above unfolds. Commodity analysts at Standard Chartered have pointed to a medium-term reduction in Iranian oil exports as being the most likely consequence of shifts in the geopolitical landscape. Back in August, we reported that Iran oil exports
Continue reading Oil Markets Underestimating The Risk Of A Middle East Blowout at ZeroHedge.