Tesla Short Sellers Make $17 Billion In 2022 After Stock Plunges 65%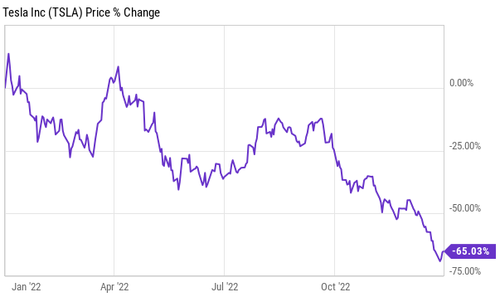 Tesla Short Sellers Make $17 Billion In 2022 After Stock Plunges 65%
Haven't heard any "Who wears short shorts?" jokes from Elon Musk lately, have we?
Tesla short sellers appear – for the first time in the company's history – to finally be in control. One of the most highly shorted names since its inception, Tesla has done well to prove both skeptics and short sellers wrong.
The company's stock is still up almost 500% over the last five years – but 2022 saw a -65% drop in the equity's price which has short sellers feeling like they are back in the driver's seat. And according to Yahoo Finance/Bloomberg, short sellers have reaped mark to market profits in 2022 of about $17 billion.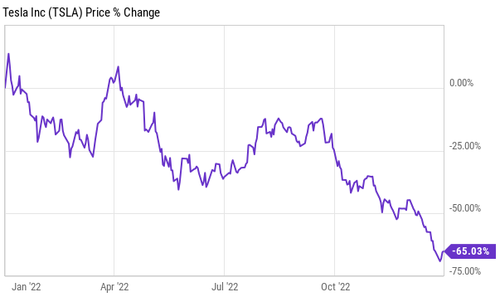 Citing data from S3 Partners, the report said that Tesla has lost about $670 billion in market value this year alone. Ihor Dusaniwsky of S3 told Bloomberg that he "expects short selling to persist until the stock reaches a bottom". Astute analysis, Ihor…
"When Tesla's stock begins to tick upwards, there should be a flurry of short covering which will help boost its stock price higher and quicker as shorter-term short sellers look to realize their outsized mark-to-market profits before they evaporate," he added. 
Short interest in Tesla has always been elevated and this year's move in the stock has emboldened long-term skeptics. The report noted: "At one point in 2018, more than one third of the stock's entire free float was held short."
Among those on the receiving end of the windfall are many shorts who got trounced with Tesla's move higher between 2019 and 2022. But at least for now, they appear to have the upper hand.
Tesla short Mark Speigel's fund
Continue reading Tesla Short Sellers Make $17 Billion In 2022 After Stock Plunges 65% at ZeroHedge.