US Spent $13 Billion Sponsoring Unaccompanied Minor Children At The Border Since 2012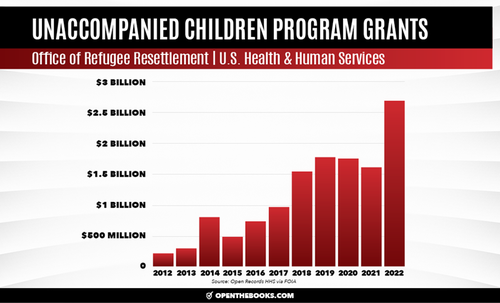 US Spent $13 Billion Sponsoring Unaccompanied Minor Children At The Border Since 2012
By Adam Andrzejewski, author of the Open The Books Substack
The chaos on America's southern border has had unintended consequence – a human catastrophe hurting tens of thousands of unaccompanied, defenseless children. 
GRAPHIC: Federal funding sponsoring unaccompanied minors at the border spiked to an all-time high in 2022.
Despite generous taxpayer funding, the federal infrastructure to provide for these children and ensure their safety is woefully incompetent.
The U.S. Department of Health and Human Services, Office of Refugee Resettlement (ORR), a part of the Administration for Children and Families, provides social services for unaccompanied children crossing the U.S.-Mexico border.
Earlier this year the office came under fire for reports children were being placed with abusive "sponsors" and made to work full time in grueling conditions, violating child labor laws. An Inspector General report released in 2023 additionally criticized the agency for not conducting background checks on employees and contractors charged with caring for children.
Our auditors at OpenTheBooks.com found that the agency spent $2.7 billion to "sponsor" unaccompanied minors – a staggering $18,000 per child. Roughly 150,000 unaccompanied minors were encountered at the southern border in fiscal year 2022. 
However, today, reports indicate that up to 85,000 "sponsored" children are missing – their locations and whereabouts are not known.  
Background
Unaccompanied children are defined as those under 18 who have no lawful immigration status in the U.S. and who do not have a parent or legal guardian that can provide custody.
According to the agency's Unaccompanied Children (UC) Program website, the office oversees making placement decisions for these minors, releasing them to "qualified sponsors and family members," and providing the children with legal representation and advice, among many other responsibilities.
Big Spikes in Federal Funding
OpenTheBooks auditors found that
Continue reading US Spent $13 Billion Sponsoring Unaccompanied Minor Children At The Border Since 2012 at ZeroHedge.