Warren Buffett Still Isn't Buying Stocks. Here's Why…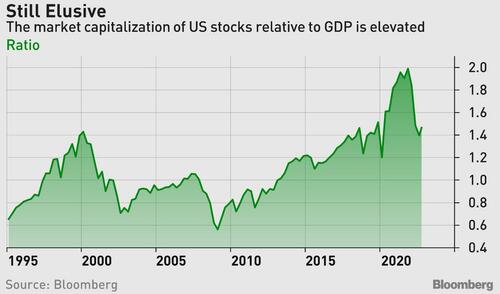 Warren Buffett Still Isn't Buying Stocks. Here's Why…
Authored by Ven Ram, Bloomberg cross-asset strategist,
The legendary value investor Warren Buffett is, by and large, still shying away from buying US stocks despite the 20% slump in the S&P 500 Index this year.
That's likely because a key metric that guides his investments is still at levels that he would perhaps consider too onerous and demanding, suggesting the backdrop is still not conducive for value investors.
The combined market capitalization of the universe of U.S. stocks as captured by the Wilshire 5000 Index totaled $37.96 trillion as of Tuesday's close. That amounts to 148% of the $25.7 trillion value of U.S. gross domestic product at the end of the third quarter.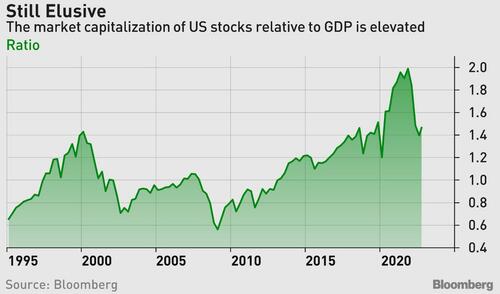 The ratio is now at levels that prevailed in the run-up to the first wave of the pandemic, when hardly anyone would have thought stocks offered true value
Buffett remarked once that buying stocks is "likely to work very well" when the percentage relationship is in the 80% area. With general valuations having soared since then and reasonably good investments coming with a stiff price tag, Buffett may have relaxed that threshold higher, but it's unlikely that he would find the current valuations persuasive
While his holding company Berkshire Hathaway is doubtless making acquisitions at the margin, the company's cash pile at the end of September was $109 billion, compared with $105.4 billion in June. In other words, with stock valuations still lofty, Buffett and his money managers are ostensibly finding little that interests them despite the slump in the S&P 500 and Nasdaq this year.
"I use it as one important value metric," says Paul Ciampa, a fixed-income professor at Boston College.
"I
Continue reading Warren Buffett Still Isn't Buying Stocks. Here's Why... at ZeroHedge.