Why not Tim Scott?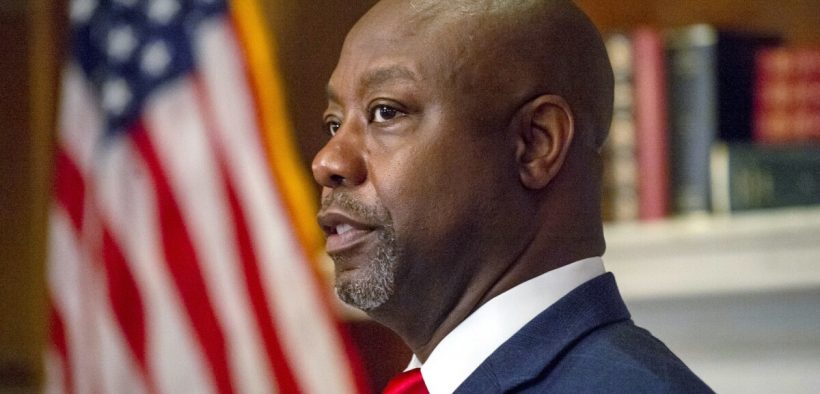 The 2024 Republican presidential primary is underway, and Senator Tim Scott (R-SC) is finding his political rhythm at the right time. The 57-year-old junior senator from South Carolina is coming off a landslide reelection in 2022. He has begun his "Faith in America tour" in the early primary state of Iowa and around the country to prepare for his eventual run for president.
He has called for "common ground" conservatism and the promise of a "new American sunrise." A stark contrast to former President Donald Trump's call for 'retribution' and revenge for his 2020 election defeat. Scott offers Republican voters an alternative version to Trump's dreary reelection campaign and gives Republicans the best opportunity to take back the White House from President Joe Biden.
Born in 1965 in North Charleston, Tim Scott overcame poverty growing up with a single mother and living with his grandparents. He graduated college at Charleston Southern University, started his insurance agency, and won a seat on the Charleston City Council. His 12-year career in D.C. began with an election to Congress during the 2010 Tea Party wave and saw an appointment to the U.S. Senate to succeed Senator Jim DeMint. He won reelection in 2014, 2016, and 2022 becoming one of only two African Americans in the Deep South to win the popular vote.
Senator Scott is the only black Republican in the U.S. Senate and the first African American senator from the South since reconstruction. He is ranked as one of the most conservative senators in the country and voted with former President Donald Trump 91% of the time. However, his hardline conservative approach doesn't prevent him from getting his legislation passed into law.
Economic opportunity, police reform, and school choice are at the top of the list for Scott. His work in passing economic opportunity zones in the Tax Cuts and Jobs Act of 2017 granted billions of investments in low-income communities and lowered taxes for single mothers by 70%. He worked bipartisanly with Senator Cory Booker (D-NJ) to get anti-lynching legislation passed in honor of Emmett Till. Finally, his work on school choice has helped many students in D.C. pick the school for them, regardless of their zip code.
Scott is likely the only African-American (and senator) running for president this cycle. He looks to match up well and compete for the 2024 nomination. His ability to raise money has him starting with $21 million for his presidential campaign compared to Trump, who only has $3 million. Scott's campaign war chest is more than John Kasich, or Chris Christie spent for their 2016 campaigns. In addition, Oracle CEO Larry Ellison has pledged support to Scott and is continuing to finance his Super PAC. This campaign finances will give Scott the ability to jump in the polls.
He is registering at no higher than 2% nationally among Republican voters. Trump and Governor Ron DeSantis are the two early front runners, but the biggest hurdle is that Scott needs to be better known among the electorate. Elections analyst David Byler of the Washington Post points out that he is the most well-liked GOP candidate and has the most potential to move up. Overall, South Carolinians give him a 66% approval rating, with 89% approval among Republicans. People that know him like him.
As a result, it makes him a better alternative to Trump than Ron DeSantis. Not only his likability but his rise in politics preceded Trump. He has helped expand the Republican Party by helping diverse conservative candidates get elected through his "Empower America Project." DeSantis was a Congressman before he became governor, but he came under the influence of Trump. His spotlight is limited to Florida politics. Scott's moments in the national spotlight include speaking at the RNC Convention in 2020 and the Republican rebuttal to President Joe Biden's first Joint Session of Congress, which were well received and spoke to a broader America.
Scott's speaking abilities and personal story contribute to his likability and crossover appeal. His talk about race and discrimination is not a turnoff to conservative voters but gives them insight into what defines his character. Speaking of racism in America, Scott says, "The story of America is not defined by our original sin. The story of America is defined by our redemption." Every country has problems, but America's promise of freedom has allowed people like Scott to overcome bigotry.
Scott describes the GOP as the "Grand Opportunist Party" but admits it must improve its outreach and communication abilities. In referencing the disappointing midterm elections, he said, "Had we spoken more about policies than the strain of culture, we'd have been more successful. We didn't do any marketing."
His happy warrior persona and positive conservative message are a perfect contrast to go toe to toe with President Biden's divisive and somber outlook, even though conservative voters seem to be content with rage.
Senator Scott has a lot of work to do to earn the votes of Republicans and secure the nomination. The Republican Party desperately needs a new leader to bring in voters and win elections. However, Tim Scott is the right man at the right time.
Continue Reading at The Washington Examiner.