Zelensky Tries To Reassure Hollywood A-Listers At Golden Globes: "There Will Be No Third World War"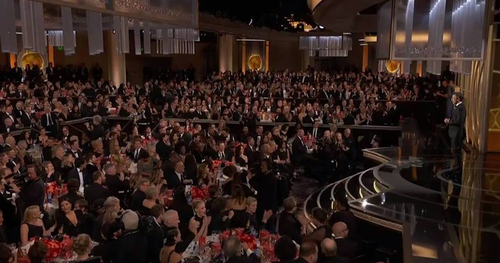 Zelensky Tries To Reassure Hollywood A-Listers At Golden Globes: "There Will Be No Third World War"
When we first heard that Ukrainian President Volodymyr Zelensky would make a virtual appearance at 80th annual Golden Globe Awards Tuesday night in order to update the audience and American public on the status of the conflict, we thought it was a joke. It should be remembered too that the Oscar Awards rejected efforts for a Zelensky appearance last year (though he did give an emotional speech at the Grammys last April).
But like with much else connected with Zelensky and the unprecedented pandering of American institutions for a foreign leader, it was all too absurdly real. He told the audience of Hollywood A-listers that "there will be no third World War" – citing Ukraine's momentum on the battlefield.
Screenshot of past Golden Globe Awards audience.
"The war in Ukraine is not over yet, but the tide is turning and it is already clear who will win," Zelensky said after being introduced by friend and actor Sean Penn. "There are still battles and tears ahead."
He launched into a bit of a history lecture, akin to his December in-person Congressional speech, reminding the television viewing audience that the Golden Globe Awards first got its start during WWII, and compared the current Russian invasion to "the struggle for the right of the new generations to know about the war only from movies."
That's when Zelensky sought to assure Americans against what's become a legitimate overarching concern – uncontrollable escalation between the US and Russia:
"The First World War claimed millions of lives. The Second World War claimed tens of millions of them. There will be no third World War. It is not a trilogy," Zelensky said, promising that Ukraine "will stop the Russian aggression" with the
Continue reading Zelensky Tries To Reassure Hollywood A-Listers At Golden Globes: "There Will Be No Third World War" at ZeroHedge.