50 Cent rips Biden for Delaware beach trip amid Israel-Hamas war: 'We got some real s— going on'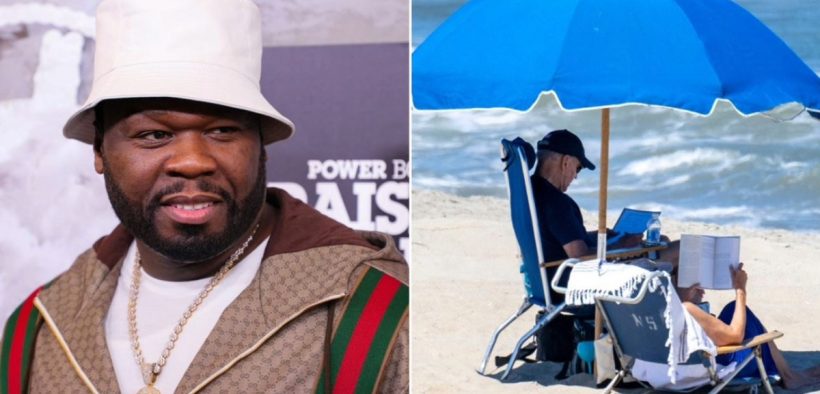 Rapper 50 Cent sent social media ablaze over the weekend with a post blasting President Biden for taking another beach vacation in Delaware as chaos continued to unfold in the war between Israel and Hamas.
"Hey Joe get the f— up, we in trouble man!" 50 Cent posted on Instagram over the weekend with a screenshot from an article titled, "Biden hits the beach with Middle East, Congress in Chaos."
In a follow-up post that screenshots an article with a headline saying, "50 Cent flames Biden," the rapper wrote, "We got some real s— going on out here Joe. What's the plan to get a tan and chill come on now."
The post drew immediate reaction from conservatives on social media who agreed with the rapper.
"Rapper [50 Cent] doubles down on his criticism of Joe Biden," Students for Trump founder Ryan Fournier posted on X. "People are waking up!"
"Rapper 50 Cent calls out Joe Biden for sleeping on the beach while our country and world suffers because of his failures," Alex Bruesewitz, a Trump influencer and CEO ofX Strategies LLC, posted on X.
"50 Cent has a question for Joe Biden and it is what we are all thinking," the social media team for Twitchy.com posted on X.
"[50 Cent] speaking truth," Make America Great Again spokesperson Karoline Leavitt posted on X.
Fox News Digital reached out to 50 Cent's representatives but did not receive a response.
White House deputy spokesperson Andrew Bates pushed back against 50 Cent's criticism, saying, "As has been the case for the better part of a century, Presidents can execute the full range of their duties from anywhere in the world – whether it's a war zone in Israel or 100 miles from the White House in Delaware."
Bates went on to tell Fox News Digital that Biden "works long hours every day" and that he spoke with several world leaders about his "support for Israel's right to defend itself and push for aid to innocent Palestinians," including Prime Minister Benjamin Netanyahu, Prime Minister Justin Trudeau, President Emmanuel Macron, Chancellor Olaf Scholz, Prime Minister Giorgia Meloni and Prime Minister Rishi Sunak.
"And he delivered more security assistance to Israel, a second shipment of aid to Palestinian civilians, and made progress toward passage of his supplemental to protect our national security, increase border funding, and grow our economy," Bates continued. "Meanwhile, House Republicans were on recess bickering with each other."
Biden was at his beach home in Delaware over the weekend as chaos continued to unfold in the war between Israel and Hamas and House Republicans failed to confirm a speaker to replace Rep. Kevin McCarthy, R-Calif.
"Americans are still being held hostage by Hamas terrorists – and Joe Biden is at the beach," a social media account belonging to the Republican National Committee posted on X.
Biden has faced consistent criticism from conservatives for the amount of time he has spent in Delaware. The New York Post reported in August that he had spent 40% of his presidency on personal overnight trips away from the White House, which put him on pace to become "America's most idle commander in chief."
Continue Reading at Fox News.