Biden, Buttigieg Flummoxed by First FAA Ground Stop Since 9/11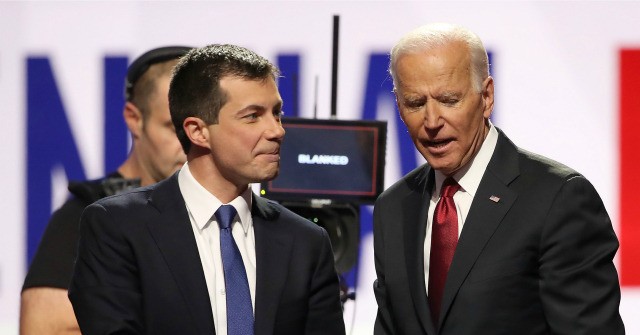 President Joe Biden and Secretary of Transportation Pete Buttigieg struggled Wednesday with the first Federal Aviation Administration (FAA) ground stop of all flights nationwide since the terror attacks of Sep. 11, 2001.
As Breitbart News reported Wednesday morning: "Commercial airline flights in the U.S. were grounded Wednesday morning due to a mass system failure. The Federal Aviation Administration (FAA) said it experienced a computer outage and was working to fix the problem."
As Fox Business noted: "For the first time since the September 11th attacks, the U.S. Federal Aviation Administration has grounded all domestic flights Wednesday morning after suffering a nationwide technical outage."
Secretary Buttigieg tweeted that he had been in touch with the FAA:
I have been in touch with FAA this morning about an outage affecting a key system for providing safety information to pilots. FAA is working to resolve this issue swiftly and safely so that air traffic can resume normal operations, and will continue to provide updates.

— Secretary Pete Buttigieg (@SecretaryPete) January 11, 2023
White House Chief of Staff Ron Klain tweeted that Buttigieg had briefed Biden:
.@POTUS was briefed by @SecretaryPete early this morning. @POTUS directed DOT/FAA to restore the system quickly and safely, and to determine causes. @SecretaryPete will provide @POTUS an update later this morning.

— Ronald Klain (@WHCOS) January 11, 2023
Buttigieg later tweeted that the issue had been resolved and that flights would resume:
FAA has determined that the safety system affected by the overnight outage is fully restored, and the nationwide ground stop will be lifted effective immediately. I have directed an after-action process to determine root causes and recommend next steps.

— Secretary Pete Buttigieg (@SecretaryPete) January 11, 2023
However, widespread disruptions were expected, as the FAA computer outage — whose cause has yet to be announced — interfered with airline schedules across the country, just weeks after a winter storm did the same.
Buttigieg has presided over some of the worst disruptions in the history of the nation's transportation network. He was away on unannounced paternity leave during the cargo crisis of the summer of 2021, for example, and was recently on vacation in Portugal as the nation faced a potentially disruptive rail workers' strike.
Buttigieg is the main Cabinet official responsible for managing Biden's recent $1.2 trillion infrastructure spending law.
On Sep. 11, 2001, the FAA grounded all flights following the hijacking of four flights and the attacks on the World Trade Center and the Pentagon. There have since been several smaller, regional ground stops. A year ago, on Jan. 12, 2022, the FAA called a brief ground stop of flights on the West Coast after a missile test by North Korea.
Joel B. Pollak is Senior Editor-at-Large at Breitbart News and the host of Breitbart News Sunday on Sirius XM Patriot on Sunday evenings from 7 p.m. to 10 p.m. ET (4 p.m. to 7 p.m. PT). He is the author of the recent e-book, Neither Free nor Fair: The 2020 U.S. Presidential Election. His recent book, RED NOVEMBER, tells the story of the 2020 Democratic presidential primary from a conservative perspective. He is a winner of the 2018 Robert Novak Journalism Alumni Fellowship. Follow him on Twitter at @joelpollak.