Did Europe's Luxury Bubble Just Burst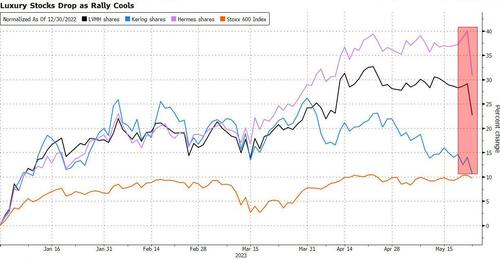 Did Europe's Luxury Bubble Just Burst
The US has its market leading "Big 7 Tech" basket (a play on AI hype but really just an excuse to buy the former market leaders Apple, Microsoft, Google, Amazon, Nvidia, Meta, Tesla), which is trading on 30x PE vs 17x for rest of S&P and is single-handedly responsible for all market gains in 2023; Europe on the other hand, has its "Big 7 European Luxury" aspirational basket  (LVMH, L'Oreal, Hermes, Christian Dior, Richemont, Kering, Ferrari) which is trading at an even more ridiculous 36x vs rest of Stoxx 600 trading on 12x PE.
But what goes up (in an almost straight line) must come down, and the blistering rally in European luxury goods stocks this year powered by international demand particularly from China took a painful hit today, wiping out more than $30 billion from the sector.
Shares in Hermes International slumped as much as 5.5%, while LVMH Moet Hennessy Louis Vuitton SE dropped around 4% and Gucci owner Kering SA saw its stock decline more than 2%.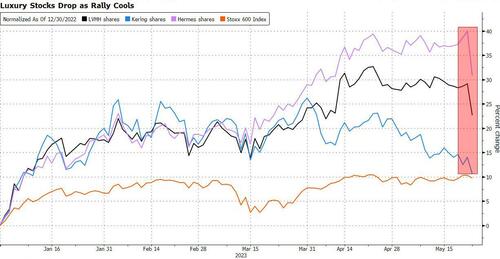 As BofA's Michael Hartnett discussed over the weekend, in the past year this high-flying sector had become to European stocks what Big Tech was to the US: a collection of dominant businesses whose explosive growth was unquestioned even as the economy shrank.
But the questions are finally starting to emerge as confidence in that view has been dented, with attendees at a luxury conference in Paris organized by Morgan Stanley flagging a "relatively more subdued" performance in the US (and China), according to Edouard Aubin, an analyst at the bank. That reflects "weakness in the aspirational consumer in particular."
Separately, the lack of a powerful rebound in China has sparked doubt if the rally will continue. Both Asia and
Continue reading Did Europe's Luxury Bubble Just Burst at ZeroHedge.